Dave Archer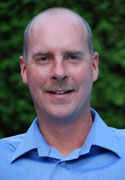 Dave Archer
President, International Business Trainers
Background
Dave Archer is an international sales veteran with in-market business experience spanning 32 countries over 15 years across multiple industry sectors, including manufacturing, technology, consumer products, chemicals, software, and services.
Fluent in Spanish, he has sold millions of dollars of Canadian-made products worldwide. Â His specialty is identifying, selecting, setting up, supporting, and managing distribution channel partners that are critical in successfully reaching all market segments containing potential customers.
He recently started a new company (International Business Trainers) that focuses on helping companies to develop their in-house export capabilities in order to sell internationally more successfully for themselves.
Company Profile – International Business Trainers
International Business Trainers utilizes a "crash course" methodology focused on getting export sales results fast. Unlike more general, time-consuming, and costly international business training programs, IBT goes straight to "where the action is": new international sales beyond the US market – and increased profitability for its clients.
Workshops range from ½ day to two days, and take place in an interactive peer-group setting focused on providing individual attention to each participant on how to sell their unique products and services in worldwide markets selected for their specific business.Â
Proprietary programs including Crash Course on ExportingTM (available for online purchase), Start Exporting NowTM, and the Export CheckpointTM Model are utilized to ensure that participants in IBT's workshops leave with specific ideas they can apply to their business immediately – and from the two-day course with a written Export Plan ready to be implemented as soon as they return to work.
Contact IBT today and let us help you to export more of your products – fast!
International Business Trainers
5-190 Minet's Point Rd., Suite 377
Barrie (Toronto), Ontario
Canada L4N 8J8
Toll Free Telephone (North America): 1 888 379 2227
Telephone (Worldwide): +1 705 735 3397
Web: www.ibtrainers.com
Email: dave@ibtrainers.com