Kevin A. Jackson
Articles by Kevin A. Jackson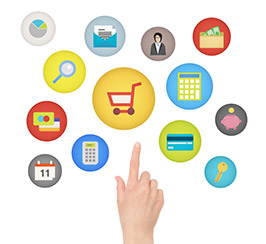 September 3rd, 2013
E-Commerce is an important part of most modern businesses today. With this ten-step primer, you can determine exactly what kind of system is right for your business and avoid some common pitfalls.
April 30th, 2008
Is Good to Great brilliantly insightful, or over quoted? Our reviewer shares his take on Jim Collins' bestseller.
June 30th, 2006
If you are in business, there is probably something that you could and should be doing online, either to complement your existing marketing, or to open up whole new untapped markets. This primer will help you understand how to get started.
May 31st, 2006
While the original Internet "bubble" was fueled by investors speculating on what often turned out to be little more than hot air, a new online business reality has been emerging over the last four years. It's not an explosion. It's a steady and promising evolution. Here is what we see on the "dot.bloom" horizon.
June 30th, 2005
One of those acronyms you may have heard a lot lately, especially from the techies who are always finding new acronyms to confuse us with, is RSS. Only now the PR and Media hacks are throwing it around too, and it may be the right time to take a closer look at how RSS may affect us and our businesses.
November 30th, -0001
With a title like "Your Marketing Sucks" we couldn't resist picking up this book. Does it live up to its promises of revolutionary new ideas? Our reviewer lets you know.