Corina Sibley, MBA, CHRP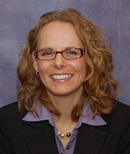 Prior to co-founding HR à la carte, Corina held several leadership roles in HR in Capgemini and GE, including leading the HR function in Canada for GE Money and NBC Universal. Corina has a unique blend of HR and Operational Leadership experience across industries ranging from financial, professional services, entertainment and IT to manufacturing, utilities and medical devices. She is recognized for her expertise in analyzing business issues utilizing Six Sigma methodology, as well as creating and implementing workable solutions.
A graduate of GE's prestigious Human Resources Leadership Program, Corina also holds an MBA degree from the Schulich School of Business, specializing in Organizational Behaviour and Industrial Relations; as well as a Bachelor of Commerce (Hons) degree from McMaster University. Corina is both a Certified Human Resources Professional, and a certified Six Sigma practitioner.
Prior to her career in HR, Corina spent six and a half years in the Canadian Army as a Logistics Officer, leaving the military with the rank of Lieutenant. She is functional in both French and Dutch.

HR à la carte is a bilingual HR consulting company operating nationally. From hiring, performance management and training, to managing difficult employee issues and firing, we help small- to mid-size businesses maximize performance, maintain compliance and minimize risk.
We recognized that business owners and entrepreneurs are busy doing what they do best, growing their businesses, with little to no time to spend on compliance and other HR activities. We had the HR expertise garnered across many different industries and businesses across Canada and globally. We wanted to bring that proven know-how to growing business operations in a simple, easy-to-use, and cost-effective way. So, we left the corporate world with one mission in mind; to make HR easy for growing operations. Making HR programs, policies and processes easily accessible and simple to implement both aids in our customers' success and allows them to spend more time on what matters most to them. And so HR à la carte was born. HR made easy.
The Co-Founders at HR à la carte have over 30 years of combined experience leading the human resources functions at Fortune 500 companies in Canada. Their expertise in global and Canadian best practices has led to the development of progressive HR tools designed to help businesses deal effectively with the issues that arise in today's complex work environments. HR à la carte provides cost-effective, success-oriented human resources solutions for growing Canadian organizations.
HR à la carte
1011 Upper Middle Rd. E., Suite 1331
Oakville, ON L6H 5Z9
416-696-7997
Toll-free 1-888-919-7422
www.hralacarte.ca
Email: info@hralacarte.ca