Elizabeth Skronski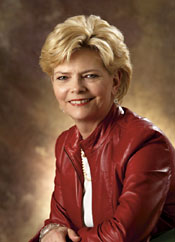 RISE International
Elizabeth Skronski, CBC
Certified Business Coach, Speaker, Facilitator
Elizabeth Skronski is a certified business coach and a performance leadership coach, facilitator and speaker. She is President of RISE International, a coaching, consulting and training firm dedicated to helping companies, large and small, reach outstanding and sustainable results by helping executives, managers and employees create Inspiring Workplaces that truly re-engage everyone and re-connect them to the Leader within themselves.
Businesses, employees and clients benefit from this new way of doing business. A strong foundation of service and leadership is built with everyone embracing their spirit and tapping into their creative energy to serve your clients, your company and themselves.
Elizabeth also runs Master Mind meetings for entrepreneurs and manages a program for women who want to start their own business. Elizabeth is a Certified Personality Dimensions Facilitator and is certified in the Inventory for Work Attitude and Motivation assessment. She holds a degree in psychology from Mc Gill University. Elizabeth is member of the International Coach Federation and a member of the coaching faculty of the Secretan Centre. Her articles have been published in the Mississauga Board of Trade magazine, Woodworking Canada magazine, Enterprise magazine and CanadaOne.
Elizabeth speaks of courage and compassion and how these simple words can heal and rebuild companies and deliver results efficiently, authentically and ethically. Elizabeth believes that everyone is a leader in waiting and works with individuals and organizations to help them identify leadership qualities within.
Elizabeth Skronski coaches executives, managers, business owners as well as personal clients from diverse industries and backgrounds, including non-profit, government agencies, consulting, manufacturing, transportation and health and wellness sectors. Elizabeth also shares the lessons she learned in her journey as an executive and a human being through her inspirational speaking and her various workshops.