Franchise Innovations: A Look at Adobe Connect Managed Services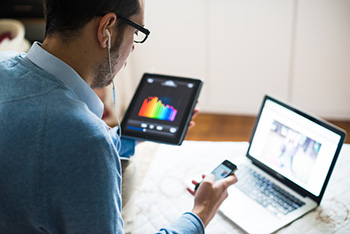 One of the greatest advantages touted by those selling franchises is the ability to standardize a formula for making money.
While consumers may think of a franchise in terms of its products and brand name, it is often the systems and quality processes provided to franchisees behind the scenes that makes a franchise stand out from the crowd.
The challenge of ensuring the consistent delivery of services from franchise to franchise, which are often distributed across entire countries or even nations, is not small.
Adobe has introduced an online training and webinar product, Adobe Connect Managed Services, uniquely suited to help franchises provide innovative online training to franchisees.
Adobe Connect: the basics
Adobe Connects is a tool that enables organizations to conduct web meetings, eLearning and webinars.
At the most basic level this means being able to have a presenter create a meeting, share his or her screen, accept others into the meeting and to share audio, either through the Internet (IP) or through the phone.
In a web meeting conducted in Adobe Connect, Michael Londgren, director of product marketing, listed 29 ways that companies could leverage the online conference environment. His list included examples of team meetings, remote helpdesk and HR support, product rollout training, virtual workshops and classroom training, surveys and sales meetings.
In product reviews Adobe Connect has stood out from its competition.
It was recently named the top product in its category in a report by Info-Tech Research Group, a company that provides its 8000+ paid members with information technology research and advice.
Adobe Connect received a "Champion" rating from Info-Tech Research Group as was given the "Best Overall Value Award" in the web conferencing space.
Adobe Connect: a Rich Media Training Environment
One place where Adobe Connects excels -- and creates unique opportunities for franchisors -- is in the delivery or a rich media experience.
Nelson noted that it is possible to code Actionscript, the scripting language to create interactivity in Adobe Flash, into the meeting screen, which creates the opportunity to put a lot more than video and slides into corporate presentations.
Nelson gave the example of users who were waiting for a meeting being able to engage by playing an online game in the Connect browser window while waiting for the host to arrive.
The advanced interactivity allows companies to deploy sophisticated training materials. Equally important, however, is the technology innovation translate into an excellent return on investments (ROI).
Xerox is one example of a fast ROI that is promoted through a case study on the Adobe website.
The company moved to Adobe Connect for workforce training and uses rich media features that include letting the user self-direct their path through training, live chats, polling and real-time presentations. According to the case study, Xerox saw a 100 per cent return on investment (ROI) in one quarter of adopting the Adobe Connects solution for corporate training.
Managed services let organizations focus on results, not technology
A key advantage of Adobe's new offering is that it combines the flexibility of cloud computing with the bench strength of an in-house solution. To put it simply, companies get the power of an in-house hosted solution, without having to purchase the computer hardware or hire IT staff to manage the software and servers.
The core idea is that companies can focus on how they will use the technology to further their business, leaving issues like the purchase and maintenance of computers, scaling of the overall system to accommodate for usage, and IT staff training to Adobe.
That fits well with the classic business advice to focus on what you do best and to outsource your weaknesses.
Companies can purchase Adobe Connect Managed Services for a "50 per cent uplift" to standard pricing, said Mitch Nelson, director of Adobe Connect Managed Services.
Watch where you host: US Patriot Act affects Canadian franchises
The US Patriot Act give broad powers to US law enforcement agencies, reducing restrictions on their ability to search telephone, e-mail communications, medical, financial, and other records, according to Wikipedia.
That means that while cloud computing offers many advantages, Canadian companies need to be careful of where the servers they are using are physically located.
Adobe Connect Managed Services are provided in collaboration with Amazon's cloud hosting services with servers located California, New England, Ireland, Singapore and Tokyo.
Michael Londgren, director of product marketing at Adobe Connect, noted that Canadian customers could choose to host through the servers in Ireland if the Patriot Act was a concern, or could investigate Adobe's in-house hosted solution.
Ideas for Canadian franchisors
So how can a franchisor leverage technology like Adobe Connect to enhance its operations? Here are just a few ideas, many of which are already in use by other corporations.
New franchisee training: use online training to bring new franchise owners up-to-speed quickly, helping them represent your brand in alignment with your franchise principles.

All franchisee meetings: take the idea of a Town Hall to a new level by inviting all franchise owners to online meetings. In addition to standard video presentations, you can also use these forums to share documents with meeting participants. This can be a highly cost-effective way to maintain communication with the people who represent your brand to your end customers.

Immediate training of new staff: Do you need to train a lot of staff, quickly and to a high customer service standard? US book retailer Borders did.

Needing to train tens of thousands of employees worldwide, the bookseller decided to standardize its training platform so it could blend online learning into its overall training strategy. Instead of waiting for a trainer to be in the area to train new employees, the company shifted the training of new hires from field trainers to store managers.

Training consists of learning assignments that have a hands-on component, which Borders says store managers can easily oversee, and an online training feature lets the company "... gauge employee completion of operator training as well as customer interaction, sales skills, and other training modules."

New product rollouts: Make sure all franchise owners and managers understand and correctly train staff about new products by conducting product rollout briefings through the web. Training materials developed from the initial sessions can be archived so that authorized contacts can review the material after the session through a video-on-demand service.

Online peer groups: With hundreds or thousands of franchises spread across large areas, the development of smaller peer groups in non-competing territories is one way you can help franchise owners have an outlet to discuss their successes, challenges and to have an outlet to talk to their peers in a confidential, non-threatening environment.

Online helpdesk support: When a crisis occurs, where do your franchisees turn first? Online helpdesks can be used to support critical questions, from technology infrastructure to HR issues like employee hiring and firing.

Franchisee coaches: You can take franchisee support to a whole new level by assigning franchisee coaches who check in regularly using web conferencing software, which adds the personal touch of a face-to-face connection. (This also creates interesting opportunities to enhance your market research by having coaches convey the things they hear from franchisees back to the head office.)

Franchise sales: online webinars can be powerful selling tools to help you attract new franchisees. What's more, having a sophisticated training system in place would send the message to franchisees that you are serious about providing ongoing training and support.