Franchisor Show their Stuff at Toronto Expo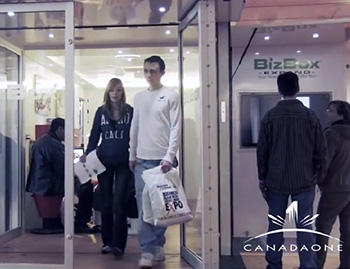 Many people came out on October 1-2 to the Business Franchise & Investment Expo held at Exhibition Place in Toronto.
Franchising is viewed as a safer way to own your own business, as when you buy a franchise you should be buying a proven system.
Ideas at the show ranged from part-time opportunities, such as two coffee vending franchises to sophisticated consumer-oriented service companies and restaurants.
Solar-powered mobile building draws a crowd.
CanadaOne encountered a number of interesting ideas and opportunities. What caught our eye first was an innovative product from a US-based company: a solar-powered mobile building.
Looking almost like a product you could expect from Apple, the modern design of the "BizBox" redefines the idea of a movable trailers. The design is attractive, but the green components were most interesting.
The hybrid building, which can be pulled by a 3/4 tonne truck and set-up by one person in half an hour, uses solar energy and a bank of batteries that can hold up to five days of power. A generator is also available for more intense energy demands.
Watch CanadaOne's interview with BizBox founder and president, Charles Sidi, who explains some of the key innovations behind his product.

Show attendees looking for solid opportunities
CanadaOne also spoke to Sydney, one show attendee, to find out what he was looking for in a potential franchise. You can watch that interview here.

Two franchisors explain their systems
Here are interviews with two of the franchisors we met at the show.

Adele, a cleaning company with 120 franchisees in Ontario and Quebec

The Natural Way, which sells non-toxic lawn care products.