Starting a Business in Canada: Understanding the Basics of Buying a Franchise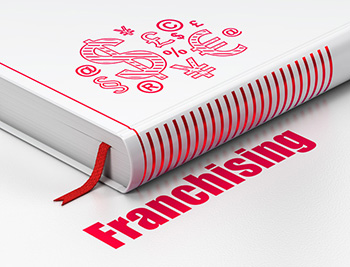 So you want to start a business?
There are three options to consider. You can start your own business from scratch, buy an existing business or leverage the knowledge of others and license a franchise.
There are many reasons to consider the franchise option, but the most important reason is that franchises have a high likelihood of success.
To help people who are looking at starting a business better understand the ins and outs of franchising, we are creating this free guide. To get started, consider how franchises differ from other forms of business.
Franchise Basics: What you need to know
What is a franchise?
A franchise is, in essence, a roadmap to success that you, as a franchisee, will license. This is critical for potential franchise owners to understand, as you are not "buying" a business per se when you decide to become a franchisee.
Instead, you pay a fee and ongoing royalties to license the franchise's name, brand and its specialized business system, which I like to think of as its "success formula".
Along with that come obligations. You will be required to follow the rules set by the franchise, which includes adhering to its system, possibly purchasing products from the franchisor at prices it has set and maintaining the storefront and/or vehicles according to the schedule set-out by the franchisor.
---
What is a franchise system?
The franchise system is a ready-made business operations manual that outlines, step-by-step, what each franchisee needs to do. If you create a business from scratch, you will be given few guidelines of help and will need to develop your own system for doing business. With a franchise, that system is a management and business operations system that outlines how you will hire, train and manage staff, take care of your books, market to customers as well as the line-up of products and/or services you will sell along with their pricing.
The franchise system is integral to the success of the franchise model and is designed to ensure brand consistency every time a customer connects with an individual franchisee. The franchise system not only explains in detail what you need to do to be successful, but it also protects the brand from being harmed by an individual franchisee. Failure to comply with the franchise system could result in an individual franchisee losing its franchise license.
This will help protect you if you decide to become a franchisee as well, as the system should be designed to protect the overall brand. However, it may mean that you sometimes have to follow parts of the system that you do not agree with.
---
What is a franchise license?
The franchise license, which will be explained in more detail in a future article, is a legal agreement between the franchisee and franchisor, which sets out terms like the initial license fee, ongoing royalties, duration of the license, and rules that the franchisee must follow.
The license is written by the franchisor, which means that the terms will strongly be in its favour. If you decide to become a franchisee you should get independent legal advice and be sure to fully understand the obligations you are committing to.
---
What is the license term?
The license term is the length of time that the franchisee has the right to sell products under the franchisor's name. Terms are usually over 5 years and provide some protection for the franchisee when it comes time to renew.
---
If I am not buying the business, what do I own?
When you buy a franchise you license the rights to use its intellectual property. That means that the brand name and associated trademarks, business system and lines of products and/or services you will sell.
If your franchise has a retail location, you will probably not own the building and property, but will likely to lease the space. Your lease may be with the franchisor, a third party or it is also possible that it is a combination, where your lease with the third party is arranged through the franchisor and that part of your rent payments could be tied to sales.
While the terms are different for each franchise contract, you most likely will own everything inside the building, including furniture, fixtures, equipment and inventory.
Your franchise agreement will give you certain rights, but you may not be able to sell or transfer those rights to another party without going through the franchisor. So don't assume that you will be able to "sell" your interest in the franchise, as you may need to go through the head office and accept the valuation offer that they think is reasonable.
---
What are the pros and cons of becoming a franchisee?
Pros

Cons

Reduced risk: A proven business model reduces the risk to the new business owner, making it more likely that the business will succeed.

Little control: In a franchise, the franchisors call the shot and franchisees are required to follow the direction and rules that they set. Franchisees are expected to follow directions, even if they think the rules are nonsensical.

A roadmap to success: Most franchises have provide you with a business system to follow, training and possibly ongoing support and mentoring.

Change happens: Most franchisors reserve the right to make operation and price changes in their franchise agreements. It is possible that these changes could have a negative impact on the profitability of each franchisee, as is alleged in a recent case involving two Tim Hortons franchisees who say the franchisor's decision to move from fresh baked on-site to off-site production more than doubled the fixed cost to make a doughnut.

Financing advantage: While most start-ups are encouraged to look for "love" money to finance the early stages of their business, it can be easier to get bank financing when buying a franchise.

Your license could be cancelled: Your franchise agreement should provide protection, but if you do not follow the rules as prescribed you might find that the franchisor will not renew your license agreement or terminate your license rights during the term of contract.

Marketing and advertising reach: It is very difficult for a single business to afford to advertise extensively; the pooling of ad dollars from franchisees means that the franchise as a whole can have a greater advertising reach. An added advantage is that the head office will often take care of all advertising, so that you do not need to spend time on these activities.

Possibility of franchisor greed: A good franchise will recognize that strong franchisees create a strong franchise overall. However, it is possible that as the confidence of a franchisor grows the franchisor could start to skim money off of every aspect of the franchisees' businesses, from rent and construction costs to raising product prices.

Bulk purchasing power: Depending on the franchise, you may be able to buy products for less than a single store could leverage.

Possibility of too many franchisees: If a franchisor allows too many franchisees in one area, the sales of all can be negatively impacted.

Territories and zone exclusions: Being given the exclusive rights to distribute products and/or services under the franchise name in a set area can protect your interest as a franchisee. Some franchisors also offer zone exclusions, which guarantees you a certain territory and / or gives you the first right of refusal to buy any new franchise outlets planned in your area.

What is offered can vary widely from franchise to franchise. Be sure to get any guarantees in your franchise agreement.

Impact from actions of other franchisees: The business system is designed to protect the brand name of the franchise. It should be unlikely, however, it is possible that irresponsible actions of one franchisee could harm the name, resulting in damage to all franchisors.

Personal income opportunities: for middle class Canadians, a good franchise will give you the chance to earn more money than you would in a traditional job, while also having the benefits of being able to write-off expenses as the business owner.