3 Tips for Doing Business in Quebec
By CO Staff @canadaone | February 16, 2016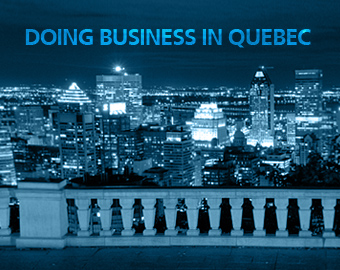 While Quebec is known and loved for its European flair, a multitude of world famous festivals, and local specialities like poutine, smoked meat and bagels, there's also a cautious curiosity about stepping foot into la belle province due to perceived language barriers.
As Canada's second largest market, however, Quebec should not be ignored if you're looking for opportunities to market your products and services. So how can you successfully penetrate this untapped and lucrative marketplace?
1) Recognize that what works in the home market, won't necessarily work elsewhere. Carefully gather market intelligence before making the move. While Quebec has been both praised and maligned for having a 'distinct culture', the truth is, so does every macro and micro business climate. Therefore, understand the nuances of the Quebec marketplace and its consumers' preferences, figure out who your direct competition is, and what's the best market entry strategy.
2) Adapt and commit. Expanding your business into Quebec's market of 8 million consumers means that not only will your company have to learn to function in both official languages, but you should commit to doing it right. Companies thinking about doing business in Quebec should make sure they're informed about language laws and consider hiring native speakers/writers who can easily capture linguistic nuances and marketing messages that will resound with your audiences. You can demonstrate your commitment by finding ways to connect with the specificities of the market, building rapport and creating a Quebec-customized experience.
3) Scout for key opportunities. Quebec offers many research and development incentives and tax breaks which can mean the difference between success and failure of your company's venture into the marketplace. Also, knowing where to go and who to talk to regarding key market opportunities is critical to when and how your business will make the move.
Expanding your business into a new market can be nerve-wracking, but it can be a great strategic step for your company. Getting the right information to help you make the best decisions is crucial to the innovation and growth of your company.
Interested in expanding your business? Looking for a dynamic new market? Then CEDEC's 'Doing Business In Quebec' conference is where you need to be! Taking place March 14-15, 2016 at the Hotel Bonaventure in Montreal, this one-of-a-kind event has been designed to provide the critical information you need to conduct business in Quebec including: business laws and regulations, available research and development funding and tax credits, the legal environment, best practices, and the advantages and opportunities of doing business in Quebec.
Now is the time to do business in Quebec! Register for CEDEC's 'Doing Business In Quebec' conference, March 14-15, 2016 at the Hotel Bonaventure in Montreal: register before February 29, 2016 and you'll be entered to win a $250 travel voucher with Via Rail! For more information visit www.cedec.ca/doing-business-in-quebec