Amplify Your Impact: Your Email Campaign Checklist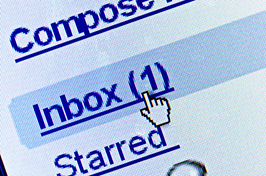 Perhaps you have been using email marketing and getting lackluster results. Or maybe you are thinking about it – you have an email campaign sitting in draft form, notes jotted down on napkins and scraps of paper or just a clever idea or two in your head.
Profitability is all about creating loyal customers and driving repeat business. According to a Bain & Company report, repeat customers spend 67 percent more and are more profitable than new customers. That same report showed that increasing customer retention by 5 percent can see profit increases of 25 percent or more. Email marketing is a low cost and highly effective way to drive customer loyalty and referral business – if you do it right!
So, revisit that draft, go back to those notes and refine those ideas. Then, before you hit the send button, use this checklist to make sure your campaign is ready for "prime time."
Define your goals.
Are you trying to motivate purchases, reinforce your brand, bring visitors back to visit your site or store, cue the reading of an article, prompt requests for more information, appointments or sign ups for a service?
Know your audience.
Are you targeting a segment of your customer base, your entire house list, a rental list of targeted prospects? What are their interests? What is important to them? Make sure your email addresses them and their needs.
Define your message.
Engage your audience and use what you know to determine how, and in what order, to describe the benefits of your offer.
Use an email marketing service.
If you want to be able to maximize the results of your email marketing, you need to be able to monitor the results of each email campaign. So you will need an email marketing service, such as Constant Contact, to create and deliver the campaign. The service will also provide tools for getting permission and managing your subscribers.
Send to people who opt-in – it's works better and it's the law.
Responses to your email marketing campaigns are driven by relationship. So buying a list isn't going to work. When you send to a list of people who have opted in, you will generate greater response – not only in open rates and click-throughs, but in business opportunities and sales. Apart from better results, it's the law in Canada now – no spamming. The Canada Anti-Spam Legislation (CASL) is expected to go into enforcement in mid-2014, so prepare now.
Develop a systematic list-building process.
Build a permission-based contact list through connections with customers, at special events or conferences, when you connect with prospects, or by building a 'resource relationship' where you offer downloads or webinars. Your email system should provide you with tools to capture permission in all the marketing activities you do – including website signup forms, Facebook apps, QR codes, text-to-join, desktop or tablet opt-in apps, database interfaces and other tools.
Did you write a book?!
Effective email marketing doesn't need to be long. The point is to stay in communication and drive a response. So long 'newsletters' are not necessary.
Be recognizable.
​​Does your "From:" line include your company name or brand? Make sure you indicate clearly who your message is from – and make sure it is how your company or product is recognized. And use a relevant email address; Don't, for example, send from a hotmail address if you are sending an email campaign from your professional consulting firm.
Subject Lines Matter.
Is your "Subject" line the right length? Studies show that the optimal length for improving open rates is 5-8 word or 40 characters including spaces. Does the Subject line incorporate a specific benefit or accurately reflect your offer?
Create a sense of urgency.
Does your Subject line create a sense of urgency? When someone opens their email, they have three little words in mind as they handle each message – now, later or never. You don't want them to think 'never' when they see your message, or it will be deleted. And if they think 'later', then it probably becomes 'never'. So make sure your subject line gets them curious enough to open the message right away. That can be with phrases like 'just 6 left…' or 'one day only..' or it could be phrases that inspire curiosity, such as 'Psst, for your ears only.'
Content matters!
Effective use of email marketing requires thinking through the content of your email and preparing it according to the response you are trying to drive. Know what you want the recipient to do and incorporate a strong call to action. Focus on the benefits of the offer you are making or the information you are sharing.
Be personal.
Is your email personalized with the recipient's first name last name or both, if appropriate? That can make the tone of your email very different from other marketing messages they receive. And write in a personal tone.
Use your Branding - But keep it real!
To keep your brand recognizable, be sure to use your corporate graphics – logos, photos and other images. It might be a good idea to hire a designer to get a template designed. But don't make your email campaign so graphic-heavy that it doesn't load quickly or can't be read if images are not enabled. Be sure to use white space. And don't hold off on sending your campaign because you cannot afford design help this month; communicate regularly.
Check the links!
​Have you checked all links to be sure they work properly? Make sure you check and double-check, especially if the response you are trying to drive depends on the recipient clicking one of those links!
Proofread – at least once.
Have you proofread the "From:" line, "Subject:" line and email copy thoroughly? One typo can make a significant difference in the message. And it creates an impression on the reader. Take a subject line that says: 'Coonecting with Jane' – you've already formed an opinion about Jane, and it isn't good. Remember Romney's 'A Better Amercia'? Typos make a difference. So proofread carefully; and consider getting a second set of eyes!
Test your campaign.
Have you previewed and sent yourself a test email? Try reading your email on different devices and in several email programs. Sometimes where you place an image can make a difference in the way it is viewed on a smartphone, for example. A recent study from Litmus showed that 38% of emails are opened on smartphones and tablets, so make sure you check out how your campaign delivers on those devices.
Timing the Delivery.
When is your audience most likely to open and read your message? While audiences vary, we have found that mid-day delivery is better than mornings or evenings. Choosing the right day of the week is also important. Often Tuesday and Wednesday achieve better results than the beginning or the end of the week. But you need to figure out what works for your list. So on your next campaign, do an ABC test to narrow down when you get the best response - Divide your contacts into three equal lists, send your email to each list on 3 different days of the week and times of day. Monitor your open rates, clickthroughs and responses to see which day and time work best.
Hit Send, Monitor Results and Improve Your Next Campaign
The biggest mistake email marketers make is not using the data. When you send out a campaign using an email service provider, you can see who opened your email, who clicked, what they clicked on, how many times and when. You can use the collective data to improve your next email campaign by using the indicators to improve timing, campaign wording and subject lines, and response rates. You can use that data on individual recipients to support your sales efforts. The critical piece is taking the time to assess the data.
When you use this checklist and address each point, you're ready to hit the send button. Congratulations! Now, sit back and enjoy the results!