Fair competition? Canada Post wants a piece of online advertising revenue
Full disclosure: While CanadaOne is not directly affected by Canada Post's current venture, we do compete for advertising dollars in Canada's online space.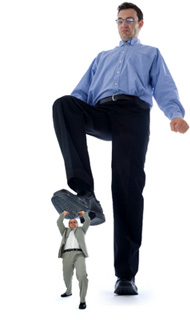 When a Crown corporation enters a private market, do they hold an unfair advantage over competitors?
With Canada Post now becoming a force in the online advertising industry, this is the question on the minds of private sector players.
Over the past few years, Canada Post has made several forays into the online world with programs such as e-post, InnovaPost (IT services), and SCI Group (logistics). They have also delved into industries that seem disconnected with mail delivery, pursuing initiatives like Comparison Shopper and most recently CentrSource.
CentrSource, an online direct advertising network, is the result of a strategic partnership with CentrSource SA, a Swiss-based company, and a number of other media partners including the CBC, Reader's Digest, and AOL Canada.
It allows companies to share products, services, discounts and the like, called "Offers", directly with users of the site, who are referred to as Buyers. Fundamentally, it is a direct marketing initiative.
This venture by Canada Post will see the corporation enter into competition, either directly or indirectly, with every portal or directory service in the nation.
Beyond the mandate?
A move like this begs the question: how far is too far? After all, Canada Post is a crown corporation. Their mandate, which is established in the Canada Post Corporation Act, stipulates that they provide services and products that are necessary or incidental to the postal service they provide.

"Though [Canada Post] has a mandate, it is reviewed periodically to account for changes in the general business environment," says Dr. Robert Campbell, President of Mount Allison University and chairman of a Canada Post advisory panel in 2008.
"It is owned by the government, but it operates as a corporation," he adds. This means that like any corporation, it aims to be profitable; and to be profitable, it needs to innovate.
But does its mandate allow for diversification into industries that don't seem necessary or incidental to mail delivery?
Unlevel playing field a concern for entrepreneurs
If you agree that a crown corporation should be able to compete in the private sector, developments such as e-post and logistical services seem like reasonable extensions of its core services. However ventures into online comparison shopping and direct advertising are raising some eyebrows.
"I don't understand how an extension of their mandate would allow them to make the leap into this industry," says Scott Sanderson, co-founder of the comparison shopping website ShopToIt.ca.
"Why they have this new thing called CentrSource which has nothing to do with the movement of products is beyond me. There is not an argument to be made for saying it's an additional enhancement to their addressed admail business or their shopping cart business."
Businesses like ShopToIt.ca have a legitimate concern.
Hundreds of entrepreneurs across Canada have taken a risk with their own capital to create a variety of online shopping and deal services. Having to compete against a crown corporation that can use its monopoly in first class mail to invest millions does not seem reasonable.
"You can't mail a letter if it's under 30 grams, no one can, so they have a monopoly from that perspective, which seems to be the thing that fuels expansion," says Sanderson.
"I think that it is terribly unfair that they can use the proceeds from a monopoly to support entry into the private business sector," he adds.
Another irony in this story — which is sure to frustrate entrepreneurs like Sanderson — is that the technology partner behind the newest venture is not even Canadian. The Canadian arm of CentrSource is a wholly owned subsidiary of its Swiss parent.
Competition fierce in Canada's $2 billion advertising market
Paula Gignac, the president of the IAB Canada, says Canada's online advertising industry was $1.82 billion in 2009 and looks like it will exceed $2 billion in 2010.
Competition for these dollars is aggressive.
Gignac notes that Canada Post has tried lots of experiments, but none so far have come to fruition. Yet as a crown corporation Canada Post seems to be able to afford to experiment in ways that few other private corporations can.
The corporation also benefits from high traffic levels due to its monopoly on mail, which it can then leverage through exclusive advertising of its digital products on the canadapost.ca website, including the popular homepage.
The public/private debate
Crown corporations occupy the tenuous space between public and private sector. Canada Post, for example, is owned by the government but not directly subsidized, operating to a large extent as a private corporation would.
Another crown corporation, the CBC, is also involved in this venture, along with other private sector media partners.
Canada Post has a monopoly over all first class mail in Canada by virtue of a legal statute, while the CBC receives government financing.
Will Canada Post use its monopoly in first class mail to provide discounted shipping rates through its online portal? Will the CBC use its government funding to help promote and develop these new shopping channels?
These are important questions that must be asked.
Have your say
Whenever there is a tie to government, as there is with all crown corporations, there will be questions regarding fair competition when it comes to the free market. Some question if they belong in the private sector, others believe it is their purpose.
What do you think? Are crown corporations overstepping their bounds? Where should the line be drawn?
You should click here to join the discussion and share your thoughts!
If you enjoyed this article, be sure to visit CanadaOne's article knowledge base for more informative articles.