Canada Post Strike: Postal lock-out expiry date on the horizon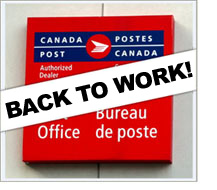 With back-to-work legislation being tabled in Parliament yesterday, Canadians are all asking the same question: when will the strike / lock-out end?
The bill will be debated in the House of Commons today, and with Parliament's summer recess scheduled to start this Friday, Labour Minister Lisa Raitt - among others - is hopeful that the legislation will be passed within the next few days, seeing locked-out workers back on the job.
If those in power can agree on an expedited process for passing the bill into law, a vote on Thursday could potentially mean that mail service would resume Friday.
Filibusters and forced closures
Because the Conservatives have a majority, party discipline dictates that the vote on the bill itself will not be the issue. But with the NDP promising to employ every parliamentary delay tactic it can muster, it is possible that the legislation could be delayed.
"It depends on what [the NDP] does. They might go through all the motions in order to delay a quick passing of the bill," says Dr. Jonathan Malloy, a political scientist at Carleton University. "They could very well stretch try to stretch it out for a few more days."
Of course, the government always has the ability to force closure of the debate, which has happened with other back-to-work legislation in the past.
Regardless of whatever Parliamentary song-and-dance involved, government House leader Peter Van Loan said that the House will remain seated for as long as it takes for the bill to pass.
Canada Post and CUPW want to reach agreement
Despite their failure thus far, Canada Post and the union are continuing to negotiate.
Both parties have said they would prefer to reach an agreement through negotiations rather than final offer arbitration, but considering the past few months, the latter seems more likely.
Either way, it would seem the conflict has a fast-approaching expiry date. All Canadians can do is bite their nails and continue to wait for a resolution.

If you enjoyed this article, be sure to visit CanadaOne's article knowledge base for more informative articles.