82% of Canada small businesses now concerned about getting paid as disruption of mail delivery drags on | Canada Post strike survey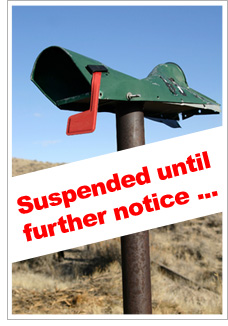 When it comes to their opinion on how the Canada Post strike lock-out affects their businesses, Canadian small business owners have changed their tune.
CanadaOne has seen a major swing in the perception of Canadian small businesses that participated in our Canada Post Strike survey.
In the early weeks of the strike and for the first few days of the lock-out, most Canadian small businesses said that the postal strike would negatively affect their efficiency (75 per cent) with just 55 per cent saying the strike would negatively affect their ability to get paid.
While the impact on efficiency remains the most cited negative impact (80 per cent), what is interesting is the sharp increase in the number of small businesses that have now said the strike negatively affects their ability to get paid.
After June 17, at the end of the week when mail delivery was completely stopped, this number increased to 82 per cent, a jump of 27 per cent that happened almost overnight.
Here are some additional key findings from our postal strike survey.
Impact of strike / lock-out on small businesses affects everything from efficiency to sales
Overall, Canadian small businesses have felt the ramifications of mail service disruption.
Eighty five per cent of respondents said that their businesses are being negatively impacted by the postal dispute, noting that they rely on the mail to conduct many business functions.
While getting paid and efficiency top the list of concerns, small businesses cited impacts in every survey category, reporting a negative impact on:
overall sales (63 per cent);
their ability to pay bills (51 per cent);
their ability to market their company (49 per cent); and
their ability to invoice customers (48 per cent).
Also notable was a tendency in some categories, such as invoicing, for respondents to either strongly agree or disagree, with only a few respondents having a moderate view.
Owners seeking out alternatives to Canada Post services
Many respondents noted that they would be seeking out alternatives to Canada Post's services.
Around 57 per cent of respondents believed they would have to look at alternative payment options and 44 per cent said they would look at alternative invoicing options, with many saying they have already begun using them.
Interestingly, almost 80 per cent believed that people who turned to alternative payment and invoicing options will keep using them after the conflict ends.

The most popular alternative noted by respondents was the use of other courier services, with 81 per cent saying they have used or considered using them.
However, many respondents have also expressed concern with the price tag for these services, with some claiming that they turned to them out of necessity, and others saying they are not a financially viable option.
"I can't ship a single item without Canada Post... I can sell my product in shops, but all my online sales will plummet as I cannot afford to ship my $30-$40 product with a $20 courier shipping fee," one respondent said.
A handful of greeting card, mail order and online businesses have expressed similar concern, and appear to be the most heavily affected by the postal dispute.
Do Canadian small businesses support back-to-work legislation?
Despite the headache that the Canada Post strike-turned-lockout has caused, it looks like Canadian small business owners can finally breathe a sigh of relief. With back-to-work legislation tabled in Parliament on Monday and currently in debate, mail service could potentially resume as early as the end of the week.
The survey also indicates that business owners have strong opinions about the status of Canada Post services and back-to-work legislation:
82 per cent think Canada Post's service should be essential;
70 per cent agree with back-to-work legislation; and
53 per cent think back-to-work legislation should have been enacted within two weeks of the conflict beginning.
Postal strike survey metrics
The survey, conducted by CanadaOne over the duration of the postal dispute, aimed to quantify the impacts of the conflict on small businesses within Canada.
The sample size of the survey was 88, and consisted of people who operated small businesses based in Canada. Though it was not a random sample, participation in the survey was open.
CanadaOne will continue the survey until the strike ends. Please click here to participate and share your views!
If you enjoyed this article, be sure to visit CanadaOne's article knowledge base for more informative articles.