Quickbooks launches new version of its cloud-based software
Intuit, makers of the popular Quickbooks accounting software, have made a significant upgrade to their online offering, announcing a global cloud strategy where the company hopes to position its bookkeeping software as the "operating system for small business."
In an exclusive interview with Lee McKenzie, senior product manager for Intuit, CanadaOne got a behind-the-scenes tour of the new product. Here is what we learned.
A visual overhaul
If the new standard for online apps is a simple, visually powerful interface then the new cloud-based version of Quickbooks makes the grade.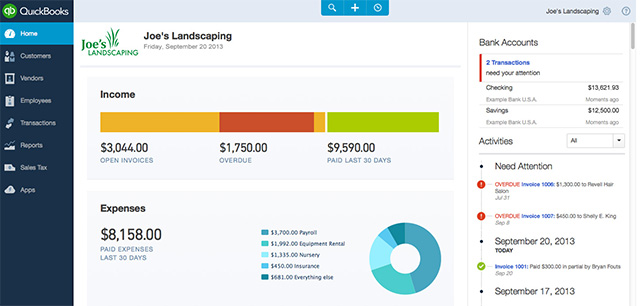 Clean, clear and focused on data insights, the main dashboard provides an overview of key data points, while a drop-down menu provides quick access to common functions.
The approach of having windows open on top of screens and then close again to reveal the main screen, which was designed to save time, is pervasive across the online version. This screenshot shows the new drop-down menu: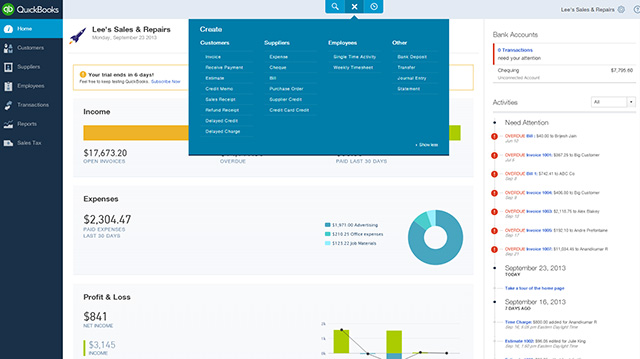 Exchanging files a thing of the past
A significant benefit of the cloud-based version of Quickbooks is that your accountant and other off-site supports will be able to access your company file without having to exchange actual files. This is not only more convenient, especially for companies with large files, but it reduces the possibility of errors resulting from having different versions of your working file or having the program crash when an accountant's copy is restored.
Intuit has built-in user controls to help ensure that the work done by each individual user is tracked separately.
As a user, you will invite your accountant and once the accountant accepts your invite, your accounts are linked. So rather than logging onto your account with your user information, your accountant will login through his or her account and have access to your file through this link.
Tracking and controls
One concern about having a single file is the possibility of fraud. The cloud-based version of Quickbooks addresses this in several ways.
There is a full audit trail where everything is tracked by the user login, so this will help protect your business by providing oversight. Also, an activity log tracks everything every user has done.
McKenzie explained that there are also reports designed to help businesses pinpoint fraud. He went on to note that the cloud version does not create any new risks, but it does give you access to your books from wherever you are, making it easier to can constantly monitor your financial data.
Intuit also handles back-ups, using an active/active security protocol where your data is replicated in two places that are geographically distinct. From a security standpoint, the cloud-version uses bank level security that is fully compliant with PIPEDA.
Cloud version pricing
Pricing has not changed for the new cloud version, which is less expensive than desktop options.
There are three pricing levels: easystart, essentials and online plus that are priced at $9 per month, $19 per month and $29 per month respectively. Payroll will be free until March 2014. There is also a free 30 day trial option.
Moving from desktop to online
Businesses that want to move to the cloud version of Quickbooks from their current desktop version will need to wait.
During the interview McKenzie noted that while Intuit has no date on the timing for the roll-out of an import mechanism, they know it's important.
Ready to connect
A key difference in the new cloud-based version of Quickbooks is its interoperability. Instead of being a stand-alone product that doesn't always play nice with others, the new global strategy will see Intuit design its product so that others can tie into it and access data.
Recognizing that they cannot be everything to everyone, the company will maintain the core software functions and then enable others, like Shoeboxed provide added functionality. (Shoeboxed is an app that helps companies turn receipts into data they can import with the camera function on a mobile device.)
Developers that want to connect to the new API, which will export things like the chart of account, tax codes and accounting items, need to apply to have access. They will then participate in a training/certification program that involves security training. The developers will gain full access once they graduate.
If you enjoyed this article, be sure to visit CanadaOne's article knowledge base for more informative articles.