Mayor Tory launches Startup HERE Toronto to connect startups, promote innovation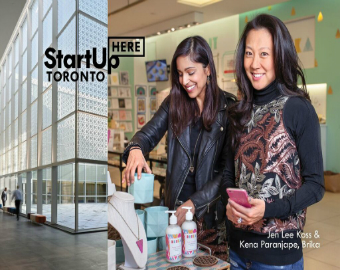 In the last year Toronto has seen itself globally recognized with some pretty prestigious honours, including being ranked by The Economist as the Best City in the World, the Most Liveable City in the World, and the Best City for Young People, as well as the number one ranking by PwC as the best city in the Asia-Pacific Region to live and do business.
Toronto is the 4th largest city in North America and considered Canada's economic powerhouse. A large contributor to that economic power is the vibrant startup ecosystem that exists in the city – something that Toronto Mayor John Tory has taken pride in and has spoken about his commitment to its continued growth.
On Thursday, Tory launched a new city website, Startup HERE Toronto, as part of a strategy to grow the startup and innovation community even further. They city's innovation agenda has identified four key items that are supported by the Startup HERE Toronto website: talent attraction and retention; civic engagement; developing Toronto's reputation as a digital testing ground; and creating an innovation friendly regulatory and procurement environment. The website can be found at http://www.startupheretoronto.com.
Startup HERE Toronto is a collaborative economic development initiative with the purpose of connecting entrepreneurs to programs, tools and resources, events, and other businesses to help them start and grow their businesses in Toronto. The website is aiming to bring the sometimes difficult information to find, all to one place, enabling an entrepreneur's ability to commercialize, network, and scale their business.
The website works to promote all of the best features of doing business in Toronto, including highlighting its growth potential, competitive ranking on the global scale, as well as a the talent and innovation the city offers – particularly promoting the city's relationship with the Waterloo region.
Website features include startup supports such as information on incubators, accelerators, co-working spaces, competitions, opportunities for funding, and pre-incubation, as well an extensive list of local events and training opportunities. It is also a platform for connecting with other entrepreneurs, either for collaborative networking purposes, or mentorship.
The Startup HERE Toronto website was built and will be managed by a long list of collaborators, including an editorial team made up of members in the startup community. Organizations include: MaRS Discovery, Hackersnest, SheEO, Startup Toronto, The Pivotal Point, Imagination Catalyst, The Working Group, Cossette, Invest Toronto, Communicable, The Hub, DMZ, Impact Centre, University of Toronto, and the City of Toronto.
If you enjoyed this article, be sure to visit CanadaOne's article knowledge base for more informative articles.