Toyota U-Squared Concept Car – The Mobile Entrepreneur's dream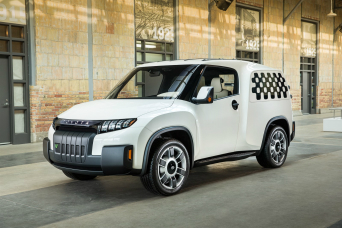 The Do-it-yourself and maker's movement has been on the rise, expanding its reach, for years now. It seems as though we can safely say that maker's culture is now making its mark on the auto industry, as was evident at this year's Canadian International Auto Show in Toronto, which wrapped up on February 21st.
It was with this do-it-yourself culture in mind that Toyota chose to have the global motor show debut of their newest concept car, the Toyota U-Squared in Toronto. With a focus on the urban entrepreneur, this part-truck, part-SUV, part-passenger car is the epitome of practical innovation. What started as a blue-sky idea back in 2013, quickly evolved into a concept car that had many people talking this week.
The designers behind the U-Squared car describe how they were inspired by the compact trucks that were so popular in the 80s and 90s, but have since been harder to come by. "They just don't make these anymore but people still love the idea of a compact truck, so that is what ignited the idea for the U-Squared," explains Andrew MacLachlan, the Planning & Communications Manager at Toyota's North American design studio, Calty Design Research.
Functionality is the main goal behind the U-Squared – making it the mobile entrepreneur's dream. Toyota understands that today's urban entrepreneur needs to constantly adapt and pivot to ensure success in business, and that is exactly the message behind the U-Squared. MacLachlan explains three key elements define this concept car:
It needed to be compact. Maneuverability is important for the urban setting.
It had to be open, yet secure. The designers love the open utility benefits of a truck, but knew that to be useful for business owners, it had to have the ability to close up and be secure.
It had to have a versatile interior, with the ability to adapt to whatever conditions the consumer required.
Today's entrepreneurs are constantly looking to innovate and therefore value flexibility and versatility. Jin Kim, a Studio Chief Designer at Calty Research, says that is exactly what the U-Squared is trying to capture. They want to create purposeful design, based on functionality, yet also have a sense of character and a little bit of attitude.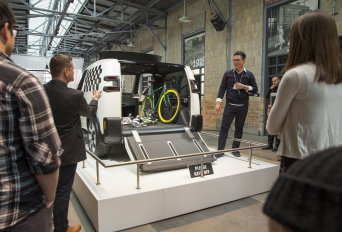 The U-Squared boasts some pretty cool features including wrap around glass to ensure visibility when driving around the city (also great for parking in the city), unique bumper corner construction allowing for easily replaceable bumpers, a durable underbody, and side windows that flip up easily for more access from the roadside.
But it's the interior features that will really catch the eyes of the mobile entrepreneur, where the goal is to maximize interior cargo space to accommodate whatever your business needs might be. This includes a utility bar that can retract in behind the speedometer to open up space and customize for unique uses, a versatile utility rail system allowing for different configurations, foldable and removable front passenger seat, fold-up rear seating, all of which allow for someone to stand up straight in the rear cargo area without having to hunch down, and a portable light feature that can plug into various places in the vehicle. You can also use the rear tailgate as a ramp into the back of the car.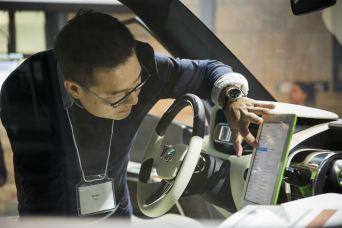 There are also options to customize other design elements including colours and materials according to individual needs and tastes.
Ultimately, the U-Squared is an attempt at anticipating all of the needs of the urban and mobile entrepreneur, even noting that perhaps they will add a feature for mobile coffee. The creative class and the growing maker's culture are redefining the way companies design products. People want the option to customize, ensuring they get the highest level of functionality – and Toyota understands that.
If you enjoyed this article, be sure to visit CanadaOne's article knowledge base for more informative articles.