Going Green May Kill your Chance of Attracting Investors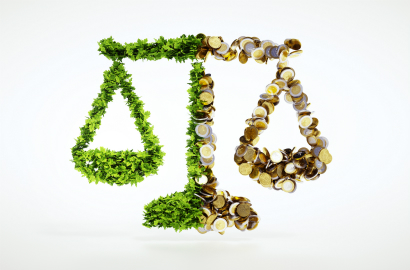 One of the most attractive qualities of starting your own business is having the freedom to create something new, change the status-quo, and have a meaningful impact. For some entrepreneurs they may be hoping that meaningful impact is through an eco-friendly approach to running their business.
Great news for the environment. Bad news for entrepreneurs.
Eco-minded entrepreneurs may need to adjust their expectations with this approach as research shows pursuing an eco-friendly culture for your new business will put some unnecessary barriers in your way, particularly where it could hurt the most – funding.
Entrepreneurs prioritizing an eco-friendly culture need to recognize the reality of attracting investors "whose primary goal is making money and not environmental issues," according to Professor Deniz Ucbasaran of Warwick Business School.
A study out of Warwick Business School and Nottingham University Business School in the U.K. found that many eco-minded entrepreneurs were in for a rude awakening when faced with decisions about sticking to their green ideals, or the ability to attract investors and stakeholders for their businesses.
Eco-minded entrepreneurs must be prepared to compromise on their green goals in order to gain legitimacy and interest from investors, suppliers, and even customers or clients, according to Professor Ucbasaran. What's more, the attempts of an eco-friendly company culture, is in fact seen as being counterproductive for gaining the necessary level of legitimacy from investors.
More often than not, the ideals, values, and beliefs of entrepreneurs that initially motivate them to start an eco-friendly venture, do not necessarily align with or hold the same value as those of potential investors and stakeholders.
Professor Ucbasaran says that eventually, they must be prepared to compromise on these ideals in order to strike a balance between "what matters to me" and "what matters to them." It comes down to being able to recognize what changes need to be made to ensure the survival of their business.
In order to attract resources needed to ensure longer-term success, investors and stakeholder must be engaged in the venture – and this means gaining legitimacy.
Ucbasaran goes on to explain that even when entrepreneurs are willing to make that compromise in order to pursue the necessary balance, it "often leads to feelings of demotivation, stress, and even led some of the entrepreneurs to question their entrepreneurial ambitions."
Ultimately, a motivated, driven, and dedicated entrepreneur who believes in their product is also necessary for a successful venture. This speaks even further to Ucbasaran's belief that success involves "balancing both the external demands of investors…while also remaining true to one's own values and beliefs."
Whether or not eco-minded entrepreneurs can achieve the right balance for them is another question that will certainly be a challenge to answer.
If you enjoyed this article, be sure to visit CanadaOne's article knowledge base for more informative articles.