$10 billion Business Credit Availability Program (BCAP)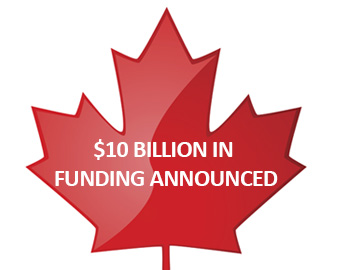 The federal government announced that it will support small businesses through the Covid-19 crisis with a new $10 billion Business Credit Availability Program (BCAP).
The program will be managed by the Business Development Bank of Canada (BDC) and Economic Development Canada (EDC).
BDC Financing Programs
The BDC website currently outlines three main types of credit:
Small business loans up to $100,000
Working capital loans
Purchase order financing
To protect workers the BDC has closed its business centres, but it is accepting applications online. (Contact the BDC or EDC to apply.)
EDC Programs
EDC's programs are available to Canadian exporters and fall into three main categories: risk management, financing solutions and working capital solutions.
Risk management programs
EDC offers two insurance programs.
Credit Insurance offers protection should your customers not pay.
Performance Security Insurance covers the risk of a buyer calling a guarantee related to specific commercial or political risk.
2. Financing solutions
EDC offers three financing solutions.
Buyer Financing helps you offer your customers favourable payment terms.
Direct Lending provides financing to help you build international sales and expand operations internationally.
Structured and Project Financing is designed for limited recourse financing of long-term, capital intensive projects.
3. Working capital solutions
EDC offers four working capital financing solutions.
Export Guarantee Program helps you access working capital through your financial institution by providing a repayment guarantee.
Foreign Exchange Facility Guarantee is designed to protect your business from unexpected fluctuations in currency rates.
Account Performance Security Guarantee enables you to protect your cashflow through being able to provide an account performance security guarantee without having to put up cash or credit as collateral by providing a 100% guarantee to your bank for any bonds it posts on your behalf.
Surety bonds providers can provide you with a surety bond knowing that the EDC will reinsure them against losses if a customer demands payment against your bond.
EDC is also limiting face-to-face meetings during the virus outbreak. You can connect with EDC online or by calling 1-888-220-0047 between 9 a.m. and 5 p.m. EST.
If you enjoyed this article, be sure to visit CanadaOne's article knowledge base for more informative articles.