Is Your Website Ready for Google's New Mobile Algorithm?
​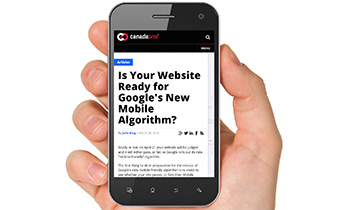 Ready or not, on April 21 your website will be judged and it will either pass, or fail, as Google rolls out its new "mobile-friendly" algorithm.
The roll-out, which will take up to a week to be fully implemented. The SEO blog SearchEngineLand notes that Google representative Zineb Ait Bahajji has said that this update will impact more sites than either the Panda or Penguin algorithms.
The first thing to do in preparation for the release of Google's new mobile-friendly algorithm is to check to see whether your site passes, or fails their Mobile Friendly Test. You can do that using this free tool:
https://www.google.com/webmasters/tools/mobile-friendly/
If your site passes, that is "awesome" – to use Google's lingo. Yet if your site has failed, there are things you can do to ensure that changes to a pass.
As I explain in my book, Social Intelligence Demystified, in the Website Restructuring section (p26-27), a responsive design is currently the best approach in most situations. This is definitely a great place to start.
Yet getting your mobile website right goes beyond the base template.
Google outlines what they are looking for in their Mobile-Friendly Websites Guide.
Some of the elements Google evaluates, like setting up media queries, dynamic serving, image compression, viewports, and caching are technical and require the help of an expert.
These four design elements that Google considers seem obvious, yet it is surprising how often some or all of them are implemented incorrectly:
Making fonts readable is a must: Font sizes and spacing are key to a successful responsive design. You want your text to be readable and fill most of the screen.
Match columns to the device: Web designs with multiple columns rarely work well on a phone. Tablets, on the other hand, provide an opportunity to balance a more complex design as long as things are still easy to read. The key is to match your design elements to each device.
Minimize zooming & horizontal scrolling: If you have ever tried to pinch and zoom through a website on a mobile device, you will already understand that this is a frustrating, unfriendly user experience. A well designed mobile site will have a vertical scroll, but will not require people to pinch and zoom to see content.
Tap areas: Think about big fingers trying to tap things on a small phone screen or tablet. If your tap areas are too close together, your site will be difficult to use. Buttons and menus are areas that are commonly impacted by this on mobile devices. To build a mobile-friendly site, you need to space out elements that a user will tap.
If your website does not pass Google's Mobile-Friendly Test, you should get feedback about some of the key problems on your page. You can also get insights into what can be improved using Google's PageSpeed tool: https://developers.google.com/speed/pagespeed/insights/.
While this was originally developed to test page speed, it now has both a Mobile Speed score and a User Experience score. The nice thing about this tool is that it gives you an exact score out of 100 and also explains what rules your site has passed, and which ones it has failed.