Interview with Nurse Next Door
By CO Staff @canadaone | December 31, 2008
Starting a business can be a daunting process, which is one reason many would-be entrepreneurs investigate purchasing a franchise business rather than starting something new.
For businesses that have established a successful company, creating a franchise has many benefits. In essence, you are selling a series of systems that can be replicated by others with the appropriate experience.
Nurse Next Door is a company that started with the vision of building a chain of franchises across the country. Since they were founded in 2001 they have successfully implemented their vision. Today the company has 21 locations across Canada and is currently adding two new locations each month.
Unlike many other sectors, the recent economic downturn has had a positive economic impact on Nurse Next Door. Their in-home care offers a lower cost alternative to having a relative move to a private care home. Also, with more people looking for work, the company has seen an increase in the number of inquiries from potential franchisees.
To learn more about how Nurse Next Door has built their franchise model, we interviewed company co-founder, John DeHart.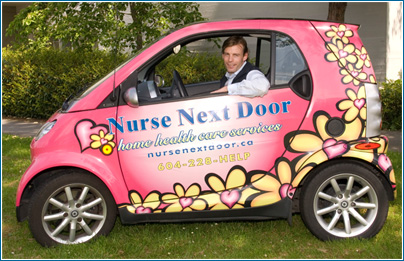 CO: How did Nurse Next Door get started?
JD: My business partner, Ken Sim, and I started the company back in 2001 based on our own personal experiences trying to find homecare for our family members. I was looking for care for my grandmother who was suffering from Alzheimer's while Ken was looking for care for his pregnant wife who was on bed rest.
After seeing how fragmented and unprofessional the private homecare industry could be we knew we could build something better. Couple that with the aging demographic in Canada and we knew we had to start Nurse Next Door.
CO: What triggered the decision to franchise?
JD: We knew from the beginning that we wanted to build a national brand and really bring great care to seniors across the country. But because our business is so localized and success really comes by engaging the community, we realized if we selected the right people that were aligned with our Core Values and driven by our Core Purpose, then they would be able to do it better than we ever could in their local community.
CO: Once you decided to go ahead and develop the franchise model, what were the next steps and how did you navigate the process?
JD: First we had to get the right people on our board of advisors. Milton Wong, Chairman of HSBC Asset Management Canada, was our Chairman from the beginning. He provided a great deal of insight and wisdom. Next we added Cameron Herold (former COO of 1-800-GOT-JUNK?), Mike Drever (CEO of Cruise Ship Centres Canada franchise system, and Judi Richardson (a past Director of Branding for Starbucks Canada). This highly successful group helped us to launch a successful system, avoid many pitfalls and keep us on track to achieve our goals.
Next we toured and researched companies from around the world that had done it well and not so well. Learning from others is a great way to find success.
Then, of course, building the right training model was critical. We built easy to read manuals by going back to the days we started locally in Vancouver and figured out what we did right and what we would've changed if we could. We followed that with a very intensive support model. We're only successful if our franchise partners are too!
CO: What markets did you target first and how important was the selection of markets to your success?
JD: When we launched, we were looking for a mix of the right partners who were close to our home base. We knew that we would be working very closely with them to support them and also learn from them what we needed to change in our system. We selected two pilot partners to run three initial franchise locations. Once we felt we had it right, we added more.
We have now identified 83 locations across Canada that can support a Nurse Next Door franchise and are focused on finding the right people. The most important aspect of any new franchise location is finding the right partner. We award franchises, we don't sell them. In fact, we accept less than 5% franchise inquiries into our system.
CO: If a business owner is thinking of franchising his/her business, from your experience, what are the key things they must consider and what are the main things they will need to do?
JD: There is a lot to consider. Have you built a successful, proven business that makes money? Do you have the money to launch it properly? Most experienced franchisors will tell you it is far more expensive to launch a franchise system than you think it is. Have you accounted for the fact that you are going to have to spend a lot of money and time supporting each partner before you see any significant royalties? Have you accounted for the fact that because you are going to be so focused on launching the system, your existing business could suffer? Is your business scalable? Can your business model be replicated? Can it be taught? Do you have the right team in place? At some point it can't all rely on the entrepreneur. Have you properly budgeted how much it costs to attract a new franchise partner? That upfront fee you are getting will be spent on recruiting and support in the early days until the royalties kick in.
One of the best pieces of advice I have? Don't expect to break even on your franchise system until you hit between 15 - 25 franchise partners. And the reality is most systems don't get above 10 partners.
CO: Were there any unexpected challenges during the process as you developed you franchise model? If so, what were they and how did you navigate them?
JD: We thought we were ready to franchise at least a year before we actually did. We went to our Board (full of franchise experts) and presented to them. They turned around and said, "OK, next month we want you to present to us why you are going to expand across Canada via corporate locations." It sent us reeling. It made us rethink our entire strategy. We spent the next year carefully analyzing the right expansion model. We went back to our Board one year later and presented to them what we were going to do. When we did launch, we really knew we had made the right decision.
CO: What challenges did you encounter once the franchise model was launched?
JD: We realized early on that we had to make a significant upgrade in our technology systems to support our expansion. While it was a large investment at the time, it paid off in spades and now is part of our competitive advantage.
Secondly, we had a large corporate operation before we launched our franchise system. At first, our corporate locations dwarfed our entire system. We were operating and treating our corporate locations differently from our franchised locations. We woke up 6 months into it and realized that if we were truly going to build a world class system, then we had to run and treat our corporate locations exactly the same as our franchised locations. This was one of the smartest learning lessons we had.
CO: As of today, tell us about the results (from a numbers perspective) you have experienced.
JD: We really have been blessed with incredible growth. Since year 1 we've grown 3600%. We've added 15 franchise locations in the last 12 months and we're the fastest growing home healthcare franchise system in the country. The real growth is coming, though. We will add an additional 25 franchise locations over the next year alone.
CO: Looking back, what if anything would you do differently?
JD: Not try to invent everything. Learn from other world class companies. In the early days, we tried to figure everything out ourselves. We got smarter as we aged and we realized that most things had been done in a world class fashion elsewhere. Then our challenge was simplified - all we had to do was find out who was doing what and implement and execute these best practices into our own company.
Get smarter at hiring the right people. It took us a while to figure out this one too. We made the mistake early on of hiring for skill while really we should have been hiring for a culture fit. The skills we can teach and help them learn. Character is something people come in with.
Finally, a great culture comes by design, it doesn't just naturally happen. I would have made this the focus from day one. Fortunately we've made some great progress. Most recently we were ranked the 6th best employer in BC but it took a lot of work to get there.