Polishing Their Way to Success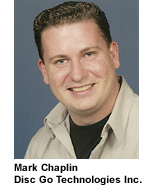 Mark Chaplin and his partner Ron Haufler may be hearing accolades now as the sales for their company, Disc Go Technologies Inc., approach $5 million, but their early years in business were anything but easy.
The pair had a modest start in business that came from a bit of applied ingenuity. Ron Haufler, who worked in automotive detailing, was used to polishing everything to get out scratches. One day he tried this technique on a damaged compact disc (CD) and discovered that the CD played beautifully again.
The idea that would spawn a multi-million dollar business was born, but it was a long way from being viable. Here is the story of how Disc Go Technologies overcame some significant hurdles to emerge as a leader in its industry.
An idea takes flight
After discussing the opportunity of starting a disc repair service company Chaplin and Haufler agreed to start the business part time, with Haufler doing the repairs and Chaplin managing the business. Both maintained their full-time jobs and worked on the business after hours. They marketed to video rental, game stores and used CD stores on the weekends and repaired the discs in the evenings in a small shop in Chaplin's garage. Neither partner drew a salary, choosing instead to invest their earnings back into the business.
In their first year in business they built up a small clientele focused on CDs and Playstation discs. The year was 1997, which was before DVDs became a popular movie format. Disc repair was a new service with almost no competition, so securing clients was not difficult. Most music stores did not see the value in repairing CDs, leaving the Playstation discs as their major target.
By 1999 DVDs became popular the partners then landed repair contracts with two of the largest video chains in Canada, Blockbuster Video and Video Update (now Movie Gallery). They leased a small retail store in their hometown and Haufler went full-time into the business. Within a few months they had secured a contract with Rogers Video, which triggered Chaplin to go full time in the business as well.
However, the increased business introduced a number of new challenges.
The process of manually repairing discs was time consuming and physically demanding. It got so that Haufler could only do a few hours of repairs a day as his hands would quickly tire from doing repairs. Meanwhile, the increased volume meant that repairs were starting backlogged. The partners tried to purchase an automated repair machine from the US in an attempt to lighten their load, but the machines were too slow for their needs.
They business had reached a technology crisis.
Engineering highs and lows
Once again it was time for some ingenuity, only this time their goals were much more ambitious. Haufler and Chaplin planned to build their own automated disc repair machine that would be based on their own repair process. It was time for formal business planning and fundraising, with Chaplin taking the lead.
Chaplin prepared a business plan and then convinced a friend to loan them $100,000. However, there was a catch. The money could only be used for the development of the machine; none of it could be used on salaries. This placed some personal financial strain on Chaplin and Haufler, who were drawing a salary of just $300 a week before taxes.
The partners contracted an engineering company to design and build the machines for the business.
Leaving a $15,000 deposit with the engineering firm, Chaplin booked trade shows in the US. The partners had been told that a prototype would be ready within 2 months and that a production model would be ready one month later. In their marketing plan they allowed for a 6 month development window, in case there were any unexpected problems.
Six months passed and the disc repair machine was not even past the concept stage. The engineering firm had become too busy with its own work.
This meant that Chaplin and Haufler had no product for the trade show. Based on a commitment from the engineering firm they promised customers that the product would be ready in three months. Three months later some interested customers flew in to see the product, only to be disappointed to see a half-completed prototype instead. The partners had hoped that the prototype would be enough to secure some deposits on the machine. It was not.
The time had come for the partners to take the technology development in-house. They fired the engineering firm, which kept the deposit for work done to date, and took on a host of new challenges.
For starters, their retail space was not large enough to build and test machines. Chaplin, an engineer who had previously worked for a medical devices company, started on drawings the partners also secured an industrial unit and asked friends to machine parts for him. At the same time the partners leased an industrial unit that was 3 times the size of their original retail store.
Just three months later, they had a working prototype.
Evaluating the business model
In all, fifteen months had passed since they first set out to build their own machine. Now changing market forces had become a threat.
Their business plan was based on a franchise model. Franchisees would purchase a machine and use Chaplin and Haufler's sales strategies, marketing their services to video stores. Disc Go Technologies would manage territories, some of the corporate sales and it would collect royalties on the gross revenues of each franchisee.
They did sell two franchises, only to discover that the market had changed and that new challenges threatened their success.
"We had found that many of video stores had purchased machines and were doing the service for themselves," said Chaplin. "This was a huge blow to our business model and we had to consider starting all over from the ground up."
They invested the revenues from the sale of the two franchises into the salary of a full time salesperson, keeping their own salaries at just $300 a week. Even with their own modest drawings the business needed more money to cover its high overhead and marketing costs.
They approached the banks first and were told that they needed to have enough collateral to cover the loan. That was not an option. The partners decided to do a private placement of $400,000. They started with their family and friends and were able to raise $30,000, which helped them cover immediate expenses. They presented one month later at the Angel Investment Forum in Vancouver, where they secured another $300,000 from two angel investors, money they committed to spend on marketing and the costs of attending trade shows.
Next came an unusual challenge. A large retailer in the US wanted to purchase a machine so that it could do disc repairs in-house. This company already had a staff of 25 people doing disc repairs yet it was still falling behind on repairs. It was a perfect fit, but the franchise contract prevented Disc Go Technologies from selling a machine to this customer.
The franchise agreement stipulated that the company could not sell a machine to an end-user, only a franchisee.
With the retailer wanting to purchase a number of the machines, the partners brokered a deal that would eliminate their original business model. The retailer bought out the two original franchisees, leaving Disc Go Technologies free to sell their machines directly to end-users.
Under the deal Disc Go Technologies would provide all the consumables for the machine free of change in return for a royalty for each disc repaired.
The company had found the ideal model for itself and its customers.
Opportunities for growth
Chaplin and Haufler developed the market for their large automated machine. The company has other contracts with large national chains and they have international distributors in Europe, Australia and New Zealand.
This did not mean, however, that all of their business challenges were over. Their next major challenge would come from a new direction: customer satisfaction as they attempted to service the lower end of their market.
The large repair machines cost $60,000, which limited their market to those who had enough volume to justify this expense. The partners secured the exclusive rights to distribute a small, inexpensive machine manufactured in China. They worked with the manufacturer to make some improvements to the machine and soon began to sell it in North America for under $400.
They had to react quickly when customer support calls started to come in.
"Although we had always prided ourselves on providing outstanding customer support to our big national clients, the issues were relatively small as we manufactured the large machine ourselves and used only quality parts," said Chaplin. "Selling a Chinese machine in North America opens up another whole can of worms. You are dealing with many more sales, as the unit is sold for under $400, and many small issues from inexperienced people operating the machine."
To overcome this problem they formed a customer service department, implemented a Customer Relationship Management (CRM) software package so that they could provide top quality service to both large and small customers.
R&D takes hold
With the most expensive machine and also the cheapest machine on the market, Chaplin and Haufler began to consider how they could fill in the large middle gap in the market, territory that was already well serviced by their competitors.
"We decided that we needed something different, something which would set us apart from the rest, and make people throw away their existing repair system and purchase ours," said Chaplin. "We thought that if we could bring the automation of our large machine together with our low cost small machine and offer a low-cost automated machine in the same price range of the other mid-level manual machines we might have something."
This time the firm looked to the Canadian government for a funding grant to assist them with the research and development. They applied for a grant under the Industrial Research Assistance Program (IRAP) for help with the design of their new machine. IRAP was particularly impressed with the large export potential for their technology and committed to help them hire two engineers.
Their automated mid-market machine was unveiled at an industry tradeshow in May 2005 and will begin shipping this July. The company has been profitable for two years now and expects to have revenues of over $5 million this year.
"Through all of the hardships, I don't really know if I would do too much differently, as it might have resulted in not being where we are today," said Chaplin.
Wisdom from the trenches
Looking back with 20:20 hindsight, Chaplin explains that he would have built the done the complete build of the machine himself, which would have brought their product to market more quickly. He would also have performed market research in other territories.
"We should have performed more market research in other territories, as the Western Canadian marketplace is not a good representation for the North American marketplace. Doing either of these two things would have brought us to market faster and may have gotten us on the track we are on now quicker."
Chaplin offers this advice to other entrepreneurs.
"I would have to suggest to try to surround yourself with intelligent people, find a good partner who is willing to work with you and don't give up on your dream. There were many times through the rough years when we couldn't take a paycheque and could barely pay our bills, but being stringent with the cashflow and frugal in purchases kept our heads just above the water for years. I used to look in the paper once in a while at the jobs which were available, at great salaries and asked myself if it was really worth it, today I can say that it was."