Small Business: Powering the Canadian Economy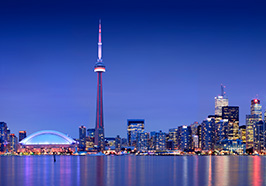 Small business owners play an essential role in moving Canada forward. They are risk takers, they are inventors, they are community builders - but perhaps the most important title a small business owner holds is "job creator."
Forty-six percent of Canada's private sector workforce is made up of small business employees. That's 5.1 million Canadians who count on a small business for their livelihood.
The small business job market felt the impact of the global economic downturn acutely. The Statistics Canada data shows us that there were more than 600,000 small business jobs lost in 2009 alone.
The good news is that Canada's entrepreneurs have turned the corner. Small businesses created almost 140,000 new jobs in 2010 and 2011 combined.
An Engine for Growth
A new Intuit Canada survey shows promising signs that this positive momentum will continue, with a majority (65%) of small businesses indicating they are either actively growing or looking for growth opportunities:
32 per cent indicate they are in a "growth stage," with 10 per cent of these saying they are "growing considerably."
33 per cent report they are holding steady, but looking for growth opportunities.
Job Creation
There is also a strong appetite for small business job creation in the year ahead:
Nearly one-third (31%) of small business owners indicated that they will be hiring within the next year.
The majority (52%) of small businesses in the "growth stage" plan to hire over the next 12 months.
Yet while small business job creation is moving in the right direction, the Intuit survey identified some clear opportunities to accelerate job creation.
Obstacles to Hiring
The survey reveals that small business owners fear that there is a skills shortage in the workforce. Forty-five percent of those planning to hire in the next 12 months indicate they will struggle to find people with the right skills.
In some instances, small business owners could better leverage the full range of tools at their disposal. For example, small business owners are more than twice as likely to make a hiring decision based on word-of-mouth (68%) than they are by using online tools, like LinkedIn (31%). In addition, small business owners are often unaware of the costs associated with on-boarding a new employee. Only 27% of small business owners had a good sense of the cost, suggesting that it would be $4,000.00 or more to bring on a new employee.
Managing the complexities of a growing staff and a payroll are the next hurdle.
A third of small business owners don't have a good grasp on the costs associated with managing payroll expenses, such as EI premiums. Furthermore, three-in-five (61%) are unaware of the temporary Hiring Credit for Small Business - a federal government credit that offers up to $1,000 to help a small business cover its EI premiums.
While small business job creation is clearly moving in the right direction, there is a clear need to create even more net new jobs if we are to truly recover from the losses of the great recession.
By providing education and resources for small businesses to better manage the process of hiring an employee end-to-end - from recruitment, to on-boarding, to managing the complexities of payroll - we can provide a much needed boost to the small business job market.
Note: Research conducted from May 9th to 13th, 2013 by Angus Reid Public Opinion. A national sample of 505 small business owners completed the survey. All respondents were small business owners with 100 or fewer employees and had been in business for at least one year. To find more small business resources from Intuit Canada visit blog.intuit.ca