'Tubing It: Calgary Company Shoots for Success on YouTube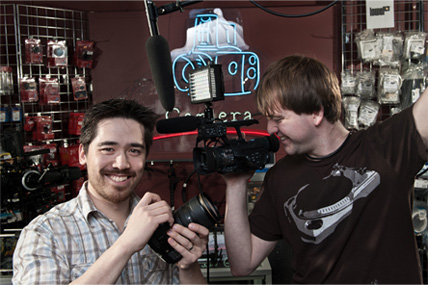 When talking with Jordan Drake and Chris Niccolls, it's hard not to be jealous. Why? Because the two employees of Calgary retailer The Camera Store, who work in sales and also produce web-based videos for the store's blog and YouTube channel, are having so much fun in their work.
Fun that also happens to be generating some pretty compelling business results.
The store's YouTube channel, which is just over a year old, broke 100,000 views a couple of months ago. Today, the numbers have grown to just over 203,000 views. Traffic is accelerating. The Camera Store's story is a classic example of "inbound marketing" — where customers seek you out — done well.
So how did Jordan and Chris make the channel so successful? Here's their story.
Editor's update: When we interviewed Jordan and Chris in February their YouTube channel had about 156,000 views. We checked back in late May and that had grown exponentially to over 350,000 channel views. Then in June they posted Battle at F-Stop Ridge, a video that went viral, racking up 1.4 million view in just 3 weeks. This is a great Canadian success story that keeps getting better!
Timely Content
The Camera Store's success online didn't happen overnight.
The pair explains that, initially, they had only educational videos posted on the company's website. They got so much feedback from them that they decided to post videos to YouTube and wound up doing product reviews as well. Interestingly, the reviews ened up being the most popular.
Quality was one critical component of their success. An average product review ranges from six to twelve minutes, so each video needs to keep people's attention, both through its content and presentation.
"If you really want to bore a viewer, make them look at the exact same frame for 10 minutes," says Jordan. "What you've got to do is get different angles, shoot a lot of B-roll, shoot a lot of product in our cases, do different effects. You can intersperse them, you can cut them in, and you can keep the viewer's interest piqued."
Time to market was another key element behind the success of their videos.
Jordan and Chris were able to get quality videos to market quickly, just as new product was being released. The Camera Store was often one of the first companies to post actual footage and images from new products, which meant that others interested in photography and videography would then talk about and share the videos they posted.
Creating a Viral Epidemic
So how do you get others to talk about you online? For Jordan and Chris, once you've created the content, you need to get it out quickly.
As soon as a video is posted on YouTube it is also added to the company's blog, Facebook and Twitter accounts, as well as to a variety of social media and specialty forums.
"YouTube's a great way to go for the small business owner," says Chris. "Just make sure that you go through the effort of embedding [your content] onto different places, putting it onto different forums ... just getting it out there."
This kind of promotion has a direct effect — it makes people aware of the videos — but it also has an indirect effect, as the videos are also pulled into conversations about new products as they are released. They essentially become part of the story.
Understanding YouTube
YouTube lets you create a channel for your business and upload videos; both services are free. You have some controls over how your videos are viewed. For example, you can control whether videos are public or private and can also determine if and how comments and ratings are added. Videos you have posted can also — if you allow it — be embedded in other places.
Jordan and Chris point out that YouTube offers a number of advantages.
The fact that you can upload a video once to YouTube and then embed that video elsewhere makes it easier to track traffic.
"That's the great thing. You put it on YouTube — it's not like you have to separately upload it to Facebook, Twitter, all those, and split up your views," says Jordan.
In addition to this advantage of being a good "vector", it is also a large social media site and search engine.
On its own, YouTube is currently the second-most-trafficked search engine in the world. What's more, search results from YouTube are often included on Google's first page of search results. This all leads to direct traffic for videos posted to the site.
"Initially we saw most of our traffic comes from The Camera Store, Facebook, things like that and that's what we need to get that initial push," says Jordan. "After that though I'd say it's really eighty per cent of our views are coming from people looking for us on YouTube or who are Googling us."
The Costs of Production
While Jordan and Chris joke that their employer is getting a really good deal from the videos they produce, each video takes a considerable amount of work on a very tight timeline.
Working in a store that specializes in high-end audio and video equipment certainly helps them keep costs down, as they can often use equipment from the store, but they do have some of their own gear.
For other small businesses without this advantage they point out that there is a lot that can be done for a relatively small investment. (Watch for our follow-up article in which Chris and Jordan explain how small businesses can produce videos for the web on a limited budget.)
The other significant cost is, of course, their time.
It can take six to seven hours just to shoot the video and then hours of editing that Jordan has to do to get a video ready for rendering and publication.
"After the shooting and after the recording, then Jordan has to basically ignore his wife and do hours and hours of work on the computer," jokes Chris. "Editing and cutting, making sure the sound is good, making sure audio levels are good. On top of that ... he does a lot of work making the video interesting. Just with certain cuts, cross-fades, putting in other footage like photos, text ... it all takes a lot of time."
Once the editing is complete, Jordan renders the file overnight. The result is a professional video, ready to upload, with a one-day turn-around.
The Business Impact
The Camera Store has seen some obvious and not-so-obvious business advantages from its success on YouTube.
Chris explains that their initial intent was to get the store's image out there, to get people thinking about them and to prompt people to come into the store.
"It all comes together to sort of help us reinforce that image to our clients that we are pros and know what we are talking about," says Chris.
The videos have increased traffic to the store and they even have had people travel from the United States and Europe to attend the photo expo the store holds annually.
"Chris and I are really salespeople ... so we see the effect right on the floor," says Jordan. "The amount of emails and phone calls that we get directly related to the videos is huge."
While they can't point to a specific number for how sales have increased, they are seeing a direct impact. Interestingly, people seem to be more willing to start a conversation online.
"A lot of people tend to be a lot more willing to just post a question on your YouTube channel as opposed to calling the store or coming down and talking to you," says Jordan. "So if somebody has a question or a concern or anything like that it's just one more avenue for you to directly communicate with them."
---
Editor's note: If you enjoyed this article, be sure to tune in to hear Jordan and Chris' tips for getting started in video production as a small business. They'll provide advice on camera selection, accessories you will need and also production tips.