Roam Mobility offers Canadian Travelers Affordable Mobile Coverage
A big frustration in an increasingly digital world is the high cost of using mobile devices when traveling outside of Canada.
Fortunately, there is a new option for Canadians headed to the US that can cut the cost of data and cell phone service while travelling to as little as $0.06 per megabyte for data and $3 per day for unlimited voice and text.
Roam Mobility, which launched in February, offers three products that can be used to access voice, text, and data while you are on the road. (Note: The prices quoted below were current as of April 30, 2012.)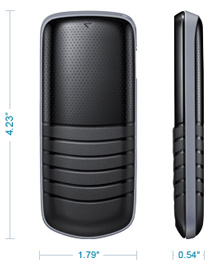 Breeze phone: This is a reusable travel phone that can be used for talk and text in the US and will give you a unique US phone number. This phone is handy if your cellphone is locked and can't be used with Roam Mobility's Sim card option. The Breeze is limited to voice and text as it does not support data.
The Breeze phone is reusabl and if you use Roam's service again within one year your US phone number will stay active. Roam notes that customers are also welcome to share their Breeze phone with family and friends.
The cost to purchase the Breeze is $49.95 and plans to add unlimited text and talk start at $3 per day. (The daily rate is lower if you opt for a 14 or 30 day plan.)
---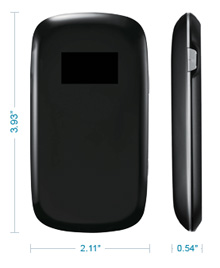 Liberty mobile hotspot: If data is what you need while traveling, the Liberty mobile hotspot is what you will want.
CanadaOne tested the Liberty hotspot on a recent trip to Boston and found it to be both fast and convenient. We had been quoted a "special savings" of $1/Mb from a large Canadian provider for data on a single smartphone. Since we expected to use closer to 500 Mb, the cost was prohibitive.
The Liberty hotspot allowed us to set-up a 500 Mb plan for $29.95 with the data valid for 30 days from activation. We could have doubled the data for an extra $10 or purchased 5 Gb for $99.95.
The device costs $129.95 and its small form fits easily in a purse or pocket making it convenient to take on the road. We found ourselves mapping routes on a tablet, checking reviews and using our devices much as we would in Canada, without the worry of racking up exorbitant data charges. (We even found a highly rated seafood restaurant where we enjoyed two fresh steamed lobsters for an incredible $29, thanks to being able to browse restaurant review sites while driving to Harvard Square.)
What was particularly handy with the Liberty hotspot is that it allowed us to connect up to five wi-fi enabled devices enabling several people to pull from the single data pool. At one point we had three smartphones and two tablets connected without any disruption of service. The ability to share data across multiple devices/people added another cost savings, as purchasing packages for each device would pushed the costs with a traditional carrier even higher.
We did experience connectivity issues in rural areas due to weak cellular systems, but that was a coverage issue and would have affected our regular carrier as well. In the metropolitan areas the hotspot was fast; the device connects to America's largest 4G network and Roam notes that speeds can reach up to 42 Mbsp.
Another advantage of using the Liberty mobile hotspot is that it is more secure than hotel and cafe wi-fi hotspots.
---

Sim cards: If you have a "simple unlocked phone", purchasing a Sim card is an easy way to add voice, text and data. When you purchase a standard or micro Roam Sim card, it will remain active as long as you use it a minimum of once a year. Roam notes that its Sim card works in any unlocked GSM phone, smartphone or tablet.
The Sim card offers the best value, if you have a device that can utilize it. For starters, the initial cost of $19.95 for the card is lower than the other options and there are a variety of packages which you can choose from.
Seven days of unlimited text and talk, with 500 Mb of data, costs $39.95. For text and talk only in the same timeframe you would pay $20.95. Packages can be purchased in 1, 3, 7, 14 and 30 day quantities and it is possible to add days, so that if you are traveling for 9 days you could purchase a 7 day plan plus 2 single day plans.
---
One thing we like about Roams' products is that you pre-pay for your plan so there are no "surprises" when you return to Canada. For the Breeze and Sim card products, Roam will notify you when you are getting close to the end of your plan and you can top up with a phone call or text. With the Liberty hotspot you top up by logging into your account.
Ironically, charges from my regular carrier on my smartphone were higher upon returning to Canada due to the very brief window when I turned on cellular service (and then accidentally left the cellular data turned on overnight). That experience only further emphasized my appreciation of the value that Roam is providing.
With Roam's data plans you do need to purchase a batch of data, which means you may pay for more than what you use, but savings are so substantial when compared to pricing from national carriers that this does not deter from their service offering.
If you wish to use Roam's products you will want to order them at least a week before you travel, as there are currently limited retail outlets that carry the products. The Roam website notes that phones can be purchased online and will be delivered within five days with no shipping costs. Express shipping is also available.
Roam Mobility's products provide a welcome and much-needed option for Canadian business travelers, who previously were forced to accept bloated charges when traveling to the US.
Our recommendation: stop paying too much for cellular connectivity in the US and look at Roam Mobility as a smart alternative to voice, text and data packages offered by the large Canadian carriers.