Going Mobile: Cutting through the Confusion for Small Business Owners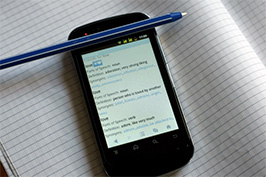 Hype is something that is not new to the tech world. We saw the hype of the original dotcom era drive up company valuations to ridiculous levels, as the media shared stories about refrigerators ordering groceries when items were used up.
We all know where that ended up, yet here we are again, facing the latest buzz: mobile.
There is little question that mobile will be important in the coming years and as I wrote back in the fall of 2010, this year and next will likely be pivot years where we see a significant shift towards smartphones and tablets.
Yet before we jump on the bandwagon to shell out real dollars developing mobile websites and smartphone apps, each business needs to remember that there is no one-size-fits all reality.
Options for going mobile
CanadaOne is owned and published by Biz-Zone, a website firm that develops websites and web software. We have been building website since 1996 and most recently, have been helping some of our customers implement mobile-ready websites.
There are three primary options for going mobile:
Convert your existing website into a responsive design. The nice thing about a responsive design is that the layout and image sizes will automatically adjust to match the size of the device. There are thought to be some search engine optimization advantages to this approach as well, although loading all of the content for the responsive design can slow down the webpage load time. Another advantage is that the design drives the display rather than the back-end technology driving the display, so it may be possible to integrate this into the content management system for your existing website.
Implement an adaptive design. This option uses the ability to detect the type of device being used and serves up a completely different website when a mobile device is detected. This has the advantage of streamlining the content to match the device, but may result in the deployment of a limited website for the mobile version that provides a less complete user experience. This option may require using a second content management system to build out your mobile site.
Create an app. There are a number of service firms aggressively selling apps. While pricing for standard apps have come down, there are still a number of drawbacks with this option. First is the operating system: to get the greatest benefit your company will need to create an app for Android, the iPhone/iPad and possibly Blackberry as well. Multiple platforms increase the complexity, even if the underlying program is being created using a cross-platform mobile development tool. Secondly, in this scenario when the operating system changes for one of your target platforms, your app may be impacted, so you need to monitor and tweak your app on an ongoing basis to ensure that it works. Finally, the user is required to download the app to view your website on their mobile device, which can be frustrating if the person is using a data plan or has poor online connection. My recommendation is to avoid creating an app unless you need a truly unique feature and instead use up-to-date HTML and CSS standards to create a mobile-ready website that works natively on all devices without developing an app.
It probably makes sense to start by finding out what integration options exist for your current website. For example, Biz-Zone's content management system, WebPortal One, has the ability to use responsive templates and has a plugin for creating an adaptive website. The most popular content management systems are likely to have both options available as well.
You may also want to investigate some low-cost third party options, like Zoho, bMobilized and Squarespace that provide low-cost options on a monthly subscription (SAaS) basis.
Would the real numbers please stand up
I have seen numbers touted that would make you think that mobile will soon become the primary way people access the web.
In some markets and user groups that is likely the case. Yet hardly a simplistic, one-size-fits-all truth.
Rather than getting sucked in by a slick sales pitch, I would encourage businesses to look at your Analytics and find out how many of your customers are accessing your website on mobile devices.
If you have not already installed Google Analytics or a similar tool on your company website, do so now. The advice it provides can give you invaluable insights into the effectiveness of your online content and audience.
Under the Audience tab there is a sub-menu item called Mobile. The overview sub-menu will show you how many users are accessing your website through mobile devices, while the device tab shows a breakdown of access by the device type.
When looking at these numbers, keep in mind that the viewing experience on a tablet is quite different than a smart phone. The time to consider investing in a responsive or adaptive mobile website is when the number of non-tablet users reaches the point where you need to provide them with a user-friendly option.
Taking localization and customer behaviour into account
In the fall CanadaOne participated in a series of social media focus groups that One Million Acts of Innovation conducted in York Region, Ontario. Even in communities that were no more than 40 km apart, the differences between the readiness and approach that each community took to social media was surprising.
"One thing we have seen is for communities to embrace social media, a "one-size fits all" approach is not effective," explains Taimour Zaman, chief viral officer for One Million Acts of Innovation. "Instead, the unique fabric of each community needs to be considered."
Going mobile is similar. You want to understand how your market is using the web when buying products or services similar to the ones you offer. Then, to be effective, you need to shape your website to deliver the right message, to the right people, in the right formats.
Behaviour of mobile users also varies depending on the device being used. For example, a Neilson research report noted that smartphone users were more likely than tablet owners to use their device to:
access a store locator (78 per cent vs. 48 per cent);
review a shopping list (40 per cent vs. 16 per cent); and
use a mobile coupon (39 per cent vs. 10 per cent.)
Similarly, tablet users were more likely than smartphone users to:
purchase a digital items on their device (48 per cent vs 28 per cent);
purchase a physical items on their device (43 per cent vs 27 per cent);
purchase a service on their device (28 per cent vs. 17 per cent);
research items before purchasing (68 per cent vs. 61 per cent);
read reviews related to current or potential purchases (53 per cent vs 45 per cent); and
write a review of a purchase (18 per cent vs. 11 per cent.)
Deciding when it's time to go mobile
When should your small business provide a mobile-ready website? The answer to this question will depend on your individual cost-benefit analysis as well as your type of business.
A retail business might decide to go mobile much sooner than a service-based business such as a bookkeeper, because people are more likely to be looking for their business when they are actively shopping.
Similarly, if you are targeting a younger audience, you will likely want to go mobile sooner. Another consideration is the type of content you deliver.
For example, on CanadaOne we primarily provide in-depth articles. Even with a mobile-friendly frame, reading this content on a smartphone screen is not ideal. We are beginning the process of converting our database of over 2500 articles to a mobile-ready option. In our case, a key consideration will be to focus on providing content like our business and events directories on a mobile-friendly manner.
Key questions to consider include:
How does the company's current website look on a mobile device?
Does the mobile site need to focus on different things than the main site, or can it simply mirror content on the main website?
How much does the business need to spend to build an effective mobile site? What will the return on investment (ROI) be?
How will a mobile website contribute to your sales process?
Is a mobile site needed to reach customers as they are ready to buy (restaurant, retail, etc.)?
What are the potential drawbacks if the company does not deploy a mobile site?