Five Best Canadian Cities for Startups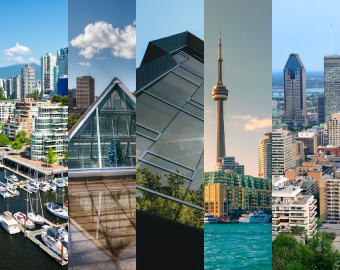 While cities such as San Francisco have long been regarded as the center of high-tech startups and modern day innovation, many other cities around the world are becoming worthy rivals in the field. Canada plays host to several such cities that have booming startup communities, significant resources for technological and professional development, an intelligent talent pool, and great ecosystems, each of which makes a strong case for being the absolute best Canadian city for such ventures.
Numerous success stories abound for startups in the country and continue to make the news regularly. While business has always been strong in Canada, 2016 saw an enormous increase in the venture capital scene that makes the country a major contender that is not to be ignored.
Toronto
Of course, it's no surprise that Toronto, which many consider the new Silicon Valley, makes this list. The city boasts a thriving financial sector that has grown in global importance over the years and features a diverse multicultural population. This makes the location an ideal spot for businesses to interact with an international marketplace. As the fourth-largest city in North America, Toronto features numerous universities and has an enormous talent pool of creative engineering and tech-focused students eager to work for a great company.
If all of these reasons weren't enough to make Toronto a great city for startups, the city is also backed and supported by both the Canadian federal government and the government of Ontario. The government is also making technological innovations that help to support and strengthen the local community of startups. For example, Toronto wireless internet, in particular, is going through significant developments as Google is partnering with local Toronto Library's to offer free take-home wi-fi.
Startups such as Shopify, 500px, KIK, Wattpad, and FreshBooks all call the city of Toronto their home and countless other venture-backed businesses have sprouted there as well. Shopify and KIK are both in the unicorn club, meaning the companies are valued at over $1 billion. In addition to startups, Toronto is also home to several Fortune 500 corporations and hosts the Canadian headquarters of Google, Facebook, Twitter and LinkedIn.
Vancouver
While Vancouver is no doubt a stunning and livable city, since it's located on the West Coast with sights of the Pacific Ocean and the mountains, there is also strong evidence to suggest that Vancouver is a great Canadian city for startups. Although it is much smaller than Toronto, it also boasts a strong talent pool of creative engineers as well as support from the Canadian government.
It's also interesting to note that since Vancouver is located on the West Coast, it is in the same time zone of other major cities and ecosystems such as Los Angeles, Seattle, Portland, and of course, San Francisco. Vancouver's location makes it the best Canadian city for staying connected to the other West Coast markets.
Like Toronto, it boasts several tech companies which are in the unicorn club and are valued at over $1 billion dollars. While Toronto claims two out of the five such companies in Canada, Vancouver makes a claim on the other three: Hootsuite, Slack, and Avigilon.
Montreal
Featuring one of Canada's largest economies, Montreal is another one of Canada's best cities for startups. Along with Toronto and Vancouver, Montreal has been rated as having one of the top 20 startup ecosystems in the world by Startup Compass, and among those three, it is the only one that has improved in rank over the previous report in 2012. It features a strong community which is strengthened and maintained through startup events such as Startup Fest and supportive non-profits and incubators such as Montreal NewTech and Notman House.
One of the biggest advantages that Montreal has over other cities on this list is an affordable real estate market that allows local startups to keep their costs low. While the cost of living continues to increase in other major cities, housing prices remain low. Currently, the average house price is $238,000, making it much more affordable than other North American cities.
Montreal also boasts a strong talent pool due to the city's many universities and technical institutes. Exceptional business graduates populate the city due to Concordia's John Molson School of Business, while local technical schools create an eager and capable engineering workforce.
Waterloo
While considerably smaller than the other cities on this list, Waterloo has been rated as having one of the finest ecosystems for startups in the country. The city has the densest population of startups outside of Silicon Valley and has over 1,000 startups to its population of 100,000. The talent pool of Waterloo is also not to be scoffed at. The city is estimated to have about 280,000 tech workers, definitely worth noting compared to Silicon Valley's estimated 380,000.
Differing from larger cities which often have more cutthroat business environments, Waterloo prides itself in a community which fosters growth and nurturing. While local startups strive to support each other, the local government also continues to back startups in the area. The city's innovation center, Communitech, was formed by the government, corporations, and companies, and offers resources and assistance to them.
Edmonton
Last but not least, Edmonton is another great city that is leading the country in a number of industries such as biotechnology, oil and gas, and digital technology and media. It's a great place for startups and entrepreneurs to thrive. Startup incubators such as Startup Edmonton and TEC Edmonton help to drive the city's community forward and create a strong culture of innovation. Like other cities on this list, Edmonton also has a strong and intelligent talent pool thanks to the presence of a long list of excellent post-secondary schools.
Although it may seem that a successful startup needs to be launched in Silicon Valley or New York City, with a little digging, it's easy to see that an aspiring entrepreneur doesn't necessarily need to leave the country to start the business of their dreams. Every startup and entrepreneur has different needs and priorities, but if you're looking for the best Canadian city for startups, the above list is a great place to start your search.
Throughout Canada, many great services, non-profits, startup incubators, startup networking events, and resources help new companies gain ground. Fresh options, such as Revenue-Based Financing are becoming available all the time, making the country an even better place for business.
Young entrepreneurs in Canada also have a range of options available to them and grants and loans that will allow them to start an amazing business. There's no doubt that for the startup community, Canada is a great place to be, and that doesn't seem to be changing anytime soon.