Work-life balance: time saving with financial management software
It's no secret that small business owners juggle the work-life balance differently than the rest of the pack. With their labour being devoted to their own business, they are more likely to put in hours that go far beyond the typical 9-5 grind.
But according to a recent survey conducted by Intuit, makers of Quickbooks, small business owners across the nation still feel that they have more balance than a typical employee despite working long hours.
The national poll on work-life balance among small business owners in Canada found that 88 per cent of owners said they were satisfied with the balance between their professional and personal endeavours. Furthermore, 84 per cent feel that they maintain a better balance than they would if they worked for someone else.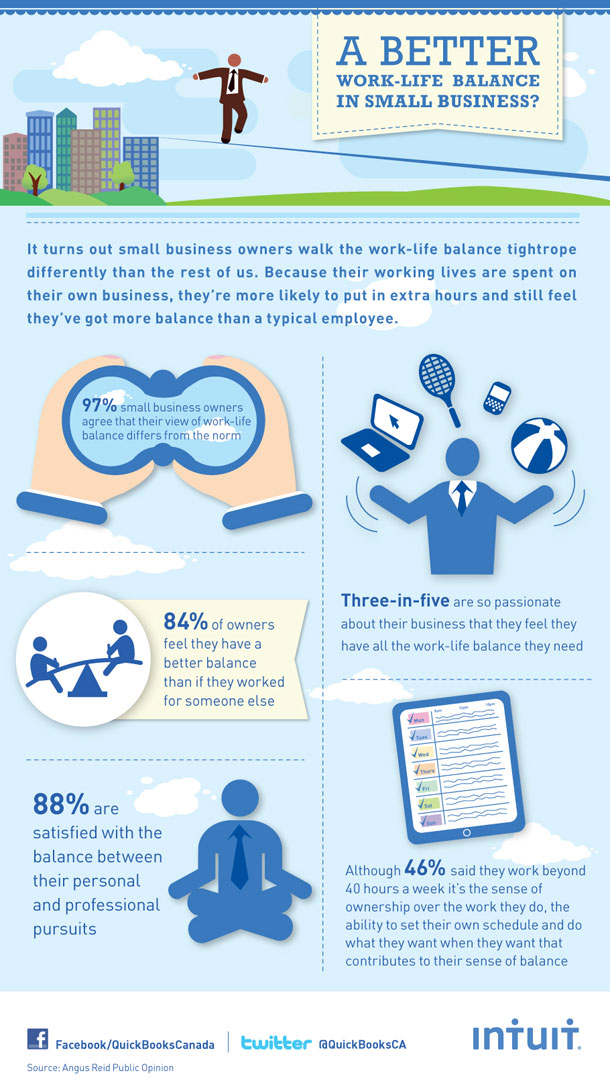 This perception in rooted in the way that business owners measure balance, which differs from the norm. Typically, work-life balance is quantified by comparing the amount of time spent on the job versus the amount of time allocated for personal pursuits. But 97 per cent of survey respondents said that their views on balance differed from this model.
Even though almost half of respondents claimed they work over 40 hours a week, the sense of ownership over their work and the ability to set their own schedule contributes to their sense of maintaining a healthy balance.
Tips to finding balance through financing
"Working smarter, not harder is the key to making the most of the time small business owners choose to devote to their work and personal lives," says Barb Anderson, Quickbooks product marketing leader. "We talk to entrepreneurs every day and invariably, those who embraced the right tools and strategies are better able to balance their schedules."
In terms of finance management, finding the appropriate tools and strategies can help improve your work-life balance. Anderson suggests the following to help save time:
Get organized: Having your financial records scattered among a host of file folders or different programs on your laptop is inefficient. Financial management software provides a one-stop snapshot of money coming in and going out of your business so you always know where you stand
Stop stuffing envelopes: Sending invoices through email eliminates the time it takes to print, prepare and post them. It also gets invoices into the hands of customers immediately.
Save time with your accountant: Don't pay your accountant to spend time sorting through your shoe box of receipts. You'll make the most of your meetings by getting organized ahead of time, and getting the strategic advice you need to move your business forward.
Ultimately, the route to achieving a healthy work-life balance is a matter of finding what works for you personally. Financial management software is just one method to consider, particularly if you have trouble with organizing and monitoring the financial aspects of your business.
---
About the survey
Angus Reid Public Opinion conducted an online survey from April 26 to May 2, 2011, among 459 Canadian small business owners who are self employed or own their own business and are Angus Reid Forum panelists. The margin of error - which measures sampling variability - for a sample of this size is plus or minus +/- 4.6 per cent, 19 times out of 20. Discrepancies in or between totals are due to rounding.
If you enjoyed this article, be sure to visit CanadaOne's article knowledge base for more informative articles.