Canada Post strike update: NDP plans to delay back-to-work legislation, UPS shipments affected by strike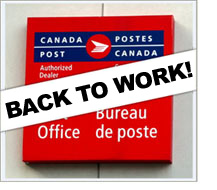 With the NDP announcement that it will use every tactic possible to delay a vote on back-to-work legislation tabled by the Conservative government, it looks like the end of the lock-out will take longer than originally expected.
As the Canada Post strike / lock-out drags out, the impact has extended to outside courier companies like UPS, which has introduced service caps and is unable to deliver to some areas of Canada.
"Since we cannot absorb all of Canada Post's intra-Canada volume, we will be limiting existing customers to a 10% increase in their normal daily volume," said an announcement on UPS.com.
"Additionally, Canada Post handles a limited amount of deliveries in remote areas of Canada for transportation companies like UPS. Shipments destined to these areas cannot be delivered while Canada Post's employees are locked out or on strike."
FedEx has said it is open for business and has a contigency plan to deal with additional volume and customers needs.
At 21 days and counting, it's unclear when mail delivery will resume
Canadians have now been waiting three weeks for the Canada Post dispute to come to an end.
With Bill C-6 (back-to-work legislation) already tabled in Parliament, talk of mail delivery services resuming even as early as this week had surfaced.
However, your plans to get those letters out tomorrow may be premature. The NDP has made it clear that they will use every parliamentary tactic at their disposal to try and delay the bill's passing.
"We intend to fight the legislation every step of the way, using all procedural manoeuvres that are possible in the House of Commons," said party leader Jack Layton. Exactly what these tactics are the NDP is being tight-lipped about.
The Conservatives, who introduced the bill Monday, are prepared to engage in a lengthy battle if necessary, but are hoping to have back-to-work legislation passed as quickly as possible.
If the parties involved co-operate, the matter could be resolved as early as tomorrow. But with the official opposition already stating that they don't intend to, it doesn't look like that will be the case.
"If the other parties are determined to prolong this matter, we could be sitting through the weekend," said Conservative House leader Peter Van Loan.
Bill C-6 will send workers back for less
One of the biggest controversies surrounding Bill C-6 is that it will send the unionized workers back for lower wages than the last offer proposed by Canada Post in negotiations.
| | | | |
| --- | --- | --- | --- |
| | | Canada Post's last offer for wage increases | Bill C-6 back-to-work legislation wage increases |
| 2011 | | 1.9 per cent | 1.75 per cent |
| 2012 | | 1.9 per cent | 1.50 per cent |
| 2013 | | 1.9 per cent | 2.0 per cent |
| 2014 | | 2.0 per cent | 2.0 per cent |
CUPW has claimed that back-to-work legislation would take away $875.50 from the average full-time worker over the four years. The union has also heavily criticized the bill on the grounds that it denies the workers the democratic right to free collective bargaining.
Concerns over quality of service if workers are forced back on the job
Back-to-work legislation under such conditions may also impact the quality of mail service, particularly in its early stages.
Dr. Tracey Adams, an associate professor at the University of Western Ontario who specializes in workplace sociology, says that the workers will most likely feel disheartened by the nature of the legislation.
"It will be hard for them to work at peak performance when they feel their concerns have not been addressed," she says.
"Job satisfaction wasn't high to begin with, and will probably be worse [if they are legislated back]."
The union and Canada Post management continue to clash over key issues such as wages, sick leave, and benefits.
Postal disruption impacts BC HST referendum
With British Columbia currently in the middle of a province-wide HST referendum, the Canada Post dispute has made the voting process difficult.
The ballots for the referendum have to be mailed out by the provincial government to residents, who must return the ballot via mail in order to vote.
A number of residents have already received their ballot packages, while many other packages are caught up somewhere in Canada Post's distribution system with the rest of the nation's mail. Elections BC has said that distribution of the remaining packages is currently on hold until the postal conflict concludes.
The government has been scrambling to get over 3 million ballot packages out by June 24th, and have set July 22nd as the deadline for their return. Depending on when mail service resumes, Elections BC officials have said they may extend this deadline in order to give voters enough time to consider how they will vote.
Suggested Reading
Take our Canada Post Strike survey
82% of Canada small businesses now concerned about getting paid as disruption of mail delivery drags on | Canada Post strike survey
Canada Post Strike: what small businesses need to know
If you enjoyed this article, be sure to visit CanadaOne's article knowledge base for more informative articles.