Google Launches New Service: Google My Business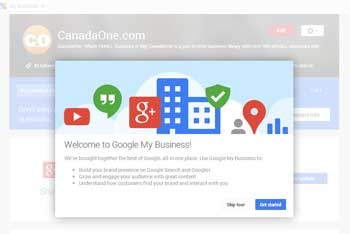 Google has announced a new way for businesses to handle their online presence today with the launch of "Google My Business."
Marketing itself towards small and medium sized businesses, the latest Google service aims to enable users to easily access and edit all of their existing Google business services in one place.
"With 76 per cent of Canadians prequalifying their purchases with online research before buying - online or in store - it's more important than ever for Canadian businesses of any size to be in control of their online presence," reads the latest press release from Google.
Bringing these different services together provides a lot of information at a glance. Whereas businesses were once required to visit entirely different webpages to manage their different services, the new dashboard includes your business' Google+ page, Insights, Web Analytics and YouTube statistics to name a few.
Google My Business is also advertising the ability for small and medium sized business owners to update their information, such as their web address, address and business hours on Google's Search, Google+, and Google Maps – a feature which will prove to be very useful for many businesses.
Other features include the ability to monitor and respond to Google reviews and connect with AdWords, Google's online advertising service.
The Google My Business Android app is available now, with an iOS app coming soon. You can setup your Google My Business dashboard here: http://www.google.ca/business.
If you enjoyed this article, be sure to visit CanadaOne's article knowledge base for more informative articles.