Outfitting Retail: Design an Experience
When a retail store first opens, you need to pull customers in and motivate them to buy. That attraction takes more than good products, it takes an "experience."
"The 'story' has to begin with the facade and/or the display windows outside and then is carried through the store and the merchandising till the 'happily ever after' end with the shopper leaving with the bags filled with product," says Martin Pegler, editor of Stores of the Year #13.
Start with a plan: store design & layout
First and foremost: start with a good plan backed by solid research. When doing market research, the goal is to understand the emotional psyche of your customer. To discover their needs and concerns, to understand why they buy.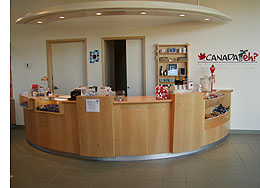 You are doing this research with a purpose. As you learn more about the customer, you will be better positioned to craft a store design that will excite them, inspire them. "The aware retailers create an ambiance that calls out to a particular shopper. It says, 'We know who you really are and what you really want,'" says Pegler.
Once you have built a picture of the type of "experience" you want to create for your customers, you are ready to look at the design and layout of your store. Store design is a specialized skill, so don't be surprised if you need a little help before you get started. From the choice of paint colours to decisions about lighting and the type of fixtures, you need to make selections that will harmonize.
If this isn't your forte, it's time to hire a designer. This doesn't necessarily have to cost a bundle either. Of course, some store image consultants can offer end-to-end services, with an appropriate price tag to match. Yet you can get some good results by hiring a local designer for a few hours. Ideally, you'll want to work with someone who has actually created an environment that is similar to the one you are working to build.
Smart tip: When buying antiques, don't strip and refinish them because their resale value drops significantly. Kept intact as they can bring a good return on your investment should you decide to sell the business later.
As another alternative, if you decide to buy new, many fixture manufacturers have professional staff who can help during the initial design stage. "What each of us would do is sit down with the clients, discuss what they like and develop the drawings as such," says Mike Savidant, Marketing Manager for Storemark, in Pooles Corner, P.E.I.
Many books deal with this subject, and a few are mentioned in the Further Reading section, if you want to do everything on your own.
Establish the budget
Lights, flooring, custom construction, and fixtures: By the time you add everything up, creating an "experience" can get quite expensive. You can spend a lot or a little, but you definitely don't want any surprises when it comes to cost. Some manufacturers seemed to have a hard time pinpointing average costs. "There is no average. Everything is different, from the type of materials the client uses, to the size and location," says Savidant.
Smart tip: Ask if the manufacturer can make your pieces "Knock down." This means you assemble the pieces in your store. You can cut down on shipping and possibly labour costs.
Savidant recommends that small business owners should expect to spend $5,000 at the very least if they are buying everything brand new. Opinions vary, however, and the type of store has a major impact on the budget. Martin Cross, Estimating Manager with Store Image in Brantford, Ont., feels it's possible to outfit an entire clothing store for as little at $1,000.
If you need to save cash, then it's time to turn on the entrepreneurial creativity. "Making due" doesn't have to mean selling your jewelry on cardboard crates. Storeowners that we talked to had done everything from building their own pieces to buying fixtures on the spot from a failing business. A "going-out-of-business" sale can be an excellent source for used store fixtures, enabling you to purchase a complete "look" without the high premium of buying new.
Depending on the image you want to project, some used and even antique pieces could be a better buy than brand new fixtures. If you take your time and shop around, you should be able to find some high-quality fixtures that fit your budget.
Who makes what
Regardless of your financing plans, the first step is to research options. You'll want to identify suppliers, collect their catalogues and drop by a few outlets. The National Association of Store Fixture Manufacturers (NASFM) can provide listings of local manufacturers. According to their website, www.nasfm.org, 85 per cent of manufacturers across North America are registered members. Business directories can also be handy when researching local suppliers.
Cross says you need to consider three things when selecting a manufacturer: the size of the job, the capability of the manufacturer to build and deliver the pieces, and the location of the company. The location of the manufacturing company in relation to you and your business is the biggest factor to consider, he says. Manufacturers two provinces away may offer you a cheaper price, but you could end up forking over the difference in shipping costs. You're also going to wait longer.
Brand new: ready-made or self-assembled
When buying brand new fixtures, you will find a wide range of costs and quality. Renting and leasing are options to consider. Be careful though, as certain materials may not hold up to the wear and tear of your product or customers' hands.
Time is a major consideration. If time is on your side, you can choose any sort of material or finish. If you need fixtures right away, you'll have to choose from the manufacturer's in-house stock.
Customized pieces are another option, but Cross says it can take anywhere from 30 to 90 days to receive them, depending on the materials used. If everything is onsite, then you can expect pieces sooner; but if you want a particular finish or wood not in stock, you have to wait longer for the manufacturer to order it.
The reputation of the manufacturer is another consideration. Small business owners should make sure to ask for references, says Savidant. You want to be assured that you're not dealing with someone who's working out of their garage with duct tape and glue. "Especially for a smaller retailer, it would be important to them that they spend their money well. They should try to make sure they have a reliable manufacturer that will deliver what they say they will deliver."
Cutting corners & getting creative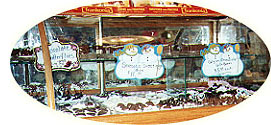 Walking into The Nutty Chocolatier has been described as taking a step back in time, with each store presenting a detailed recreation of the Victorian era. To create this experience, storeowner Ken Koury scoured auctions for antiques. The mahogany counters that provide the focal point are authentic 1800's antiques.
Going to a local cabinet or furniture maker is a viable option. As a small business, this could be an effective way to get a high-end look without the corresponding price tag. But the success of this approach hinges on the reliability and capability of the contractor, so be careful when making your selection. This may also be a logical choice if you are setting up shop in a remote area where used fixtures may not be so easy to find.