Franchising with a Difference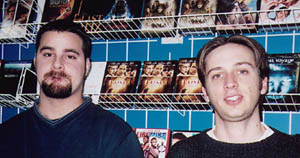 When Darryl Dirocco and Chris Bizzarro decided to go into business for themselves franchising seemed to be the way to go. For a set fee you can get a business with an established name and built-in reputation. However, the pair managed to find a business that had all of the benefits of a franchise and none of its drawbacks.
"We don't have a head office and we don't have any of those royalty or franchise fees," says Dirocco. What separates their business, a small chain of video stores known as Box Office Movies, is that it is a concept that can be purchased from it's original developer and then run as an independent business. This means that they have a brand name, and concept without having to pay royalty fees or answer to a corporate office.
While Dirocco and Bizzarro were able to find a proven concept without the red tape, there are thousands of Canadians who become entrepreneurs through the purchase of a franchise. Statistics show that a new franchise is opened every 90 minutes in Canada. And why wouldn't they? Rather than struggle to build a business from the ground up, a franchise gives you instant brand name recognition and a built-in customer base. For the parent company franchising is a way to expand their market without having to be physically present.
What's in a name?
Running a successful franchise takes more than plunking down the money for a recognized trademark. There are several important factors to consider when buying a franchise.
What are they selling?

It takes more than a recognized brand name to build a successful business. At the heart of the business is its product. You don't necessarily have to like or endorse the goods yourself, what is most important is how the buying public feels about it. Take fast food chains for example, you may enjoy a good burger and fries, however, in your local business landscape a sandwich shop may be the way to success.

Look for long term trends, going back to our fast food example, recent history shows that giants in the industry are struggling slightly, while other restaurants that are willing to provide alternatives that cater to their customers needs are pulling ahead.

DiRocco points out that some products don't necessarily need a highly recognized brand name to be profitable. In fact, just from working in his own niche, he has heard more than one complaint about some of the more recognized chains. In the case of some products, customers are tired of paying more than they have to, especially if they can't get good service.

"It's all about customer service, they get to know us. Customers like to go down to the little guys, that's what I find at least. We hear a lot of complaints about the big chains, which is good for us, plus we're a lot cheaper."

Profit estimates

You've done your homework and decided that a franchise is the best choice for you. Now how should you decide what particular brand to go with? Every franchised company will have some kind of marketing package that extols their virtues. Pick them up and look over them. It's important to know what you're getting for the price.

Some franchises will provide you with a complete "turn-key" operation. This system allows you to walk into a store and start running your business from day one. Others, similar to DiRocco and Bizzarro, provide a trademark and a concept, leaving the rest up to you.

Don't base your final decision on price alone, advises Steve Iskierski, Senior Manager of National Franchising Services for the Bank of Montreal. "You only get what you pay for," says Iskierski. "Make sure you do some investigation and find out what kind of track record the company has. Talk to existing franchisees, they are your best network. Ask them how much support they receive and are sales expectations on target."

The most recent Canadian statistics show that the average franchise fee is $25,000 and the average start-up investment is $166,600. Darryl estimates that most franchises set their fee structure so that you as the franchisee are entitled to 20 per cent in profits after all of the bills have been paid.

"If it's not enough then it's not worth it, getting the franchise, getting yourself all tied up in that if you're only going to make $30,000 or so. Be careful with franchises. They can make it, but they just might scrape by. There are some good choices though," says DiRocco.

Support from the franchise company

Included in your final bill for a franchise is a support system. After all, it is in the best interest of the franchisor to make sure that every franchise outlet is successful. This support can range from participation in company-wide advertising campaigns to specified distributors and suppliers.

For some, having this kind of guidance from people who have a system in place is reassuring. It can also minimize the time and money involved with having to find people to handle these responsibilities on their own. For others, these rules can hamper their entrepreneurial spirit and cause them to feel like another cog in the wheel. To find out what you can expect from your head office, make sure to add this to your list of questions when you talk to existing franchisee's.

"There are good franchises out there, but on the whole I prefer the control and freedom [of this business]. I don't have to worry about people telling me what to do or set my prices at," says DiRocco.

Legalities

Along with the usual business requirements such as registering your name, getting any licenses or permits, and paying taxes, which are regulated by either the province or federally, the franchisor will have you sign a Franchise Agreement. These documents are not legally mandatory, however they are a binding contract within the company.

Make sure that you go over this document not just on your own, but with a lawyer as well. Before you sign these contracts and pay your fees you will want to make sure that you have a good understanding of what you're getting yourself into. For example, what would happen if someone else wanted to open the same franchise a block away, possibly cutting into your profits? Would you have the opportunity to oversee this store as well, or would you have to compete with your own brand name?

Among the basics of the agreement you're likely to find a list of regulations regarding suppliers, training requirements, and of course required fees. Hopefully, you've done a thorough research job and the clauses aren't coming as a complete surprise to you.

Make sure that you get a good location

There is an old cliche that the secret to having a successful business relies on three things: location, location, and location. In fact, some would-be franchise owners believe that the location of the business is what will ultimately determine its success. This doesn't have to mean being part of Main Street, as DiRocco and Bizzarro have found. With the freedom to chose their own site they set up Box Office Movies in a residential area across town from the major national chains. They have found the location works to their advantage, allowing them to cater to the surrounding neighbourhood. However, if they were part of a bigger franchise they may have found themselves across the street from stiff competition.

Quite often the franchisor will decide on where they want to locate a particular store. Darryl advises that you do some estimates and find out if this location will facilitate the costs of the franchise and bring you a profit. If the business is right across the street from your main competitor the two of you will be battling it out for profits while the franchisor collects the fees regardless of what you make.