Book Review: Capturing New Markets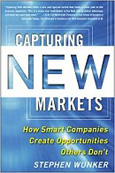 | | |
| --- | --- |
| Title: | Capturing New Markets |
| Author: | Stephen Wunker |
| Publisher: | McGraw-Hill |
| ISBN: | 978-0-07-176744-6 |
"This book explains how to find, enter, and win in new markets. It also explores how to create corporate competency to generate growth from new markets over and over again. It provides a broad perspective on how to view new markets while also supplying a toolkit that can be deployed immediately."
The above quote, taken from the preface of Capturing New Markets, describes to a tee what the book does: it guides the reader through the W5H of succeeding in new markets.
Wunker's expertise and business savvy are in full presence as he takes the reader through the environments of new and emerging markets. His underlying message – that traditional methods used to excel in already established markets won't necessarily cut it in new markets — is relatively simple at its core, but the rich combination of research, case studies and analysis that Wunker employs paints a vivid picture of what strategies are likely to give you a better shot at success.
Each chapter tackles a different issue: why new markets matter; how to find new markets; assessing what doesn't yet exist; locating early customers; market penetration; entering at the optimal time; fulfilling potential of emerging markets; and creating corporate competency to exploit new markets.
These chapters all include case studies, precedents, success stories and costly failures that drive the narrative, with Wunker providing insight and analysis that make these stories relevant to the reader. Why was ignoring a new market so perilous for Blockbuster? How did Kodak create a new market in mass photography? How did Facebook's strategy and timing of market entry help them succeed in social networking? Wunker doesn't just present stories, he reflects on why companies failed, how they succeeded or what the alternatives could have been.
Furthermore, the book is filled with strategies and methods geared toward creating new opportunities and generating profit from underexploited markets, including:
Understanding trends that make new markets critical in today's economy;
A six-step process to uncover latent needs in consumers;
Common pitfalls in new market evaluations;
How small targets can enable more rapid penetration of big customer sets;
Creating footholds and their importance in new markets;
Entering markets at the right time; and
How venture capitalists are role models for how companies should attack new markets.
The manner of writing and organization of this book is excellent. It avoids the convolution and inaccessibility common in academic writing, yet doesn't make simple conclusions based on casual observations, balancing both readability and intelligence. A list of bullet points both introduces what will be discussed and summarizes the key points in every chapter, and a variety of comparative charts and graphics present information in a way that is easy to absorb.
Simply put, Capturing New Markets is a great book. It is a thorough, well-written and well-evidenced piece on corporate strategy that provides guidance on how to identify, build, and succeed in new markets in a creative yet disciplined manner. Wunker's work has much to offer entrepreneurs from all walks of life, particularly if they are looking to take the path less-travelled.