Have Your Say: Send Emails to Canada's MPs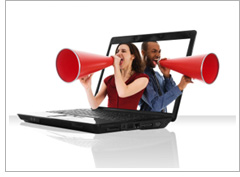 We created this free email service to help small businesses share their concerns with their elected MPs.
A French version is available here.
MP list last updated January 8, 2016.
Have Your Say - Active Campaigns
Take Action: Demand public cloud services and policy for Canada
By adopting policy similar to the U.K.'s Cloud first, and investing in a CloudStore infrastructure, Canada can become a leader in government modernization. A G-Cloud first for Canada approach will make it easier for ICT suppliers – particularly SMEs – to do business with Government
Take Action: Demand policies for the adoption of mobile technologies in Canada
Digital platforms create the opportunity to offer new services domestically and abroad, and if fully adopted by Canadian enterprises can result in the creation of jobs, increased efficiency, cost reduction, revenue generation and faster innovation. Please help us send a strong message to all MPs that the government should be considering a policy to promote the adoption of mobile technologies.
Compose Your Message (all fields required)