Amber Mac: Dot-Com Pioneer Turns US Experience into a Canadian Success Story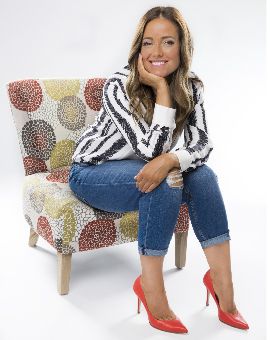 When Amber Mac was studying Journalism in the early 90's out in the East Coast, little did she know she would one day become one of Canada's most well-known tech journalists.
Like so many women entrepreneurs, Amber Mac has a lot on the go: president, TV host, author, and the list goes on.
Her success stands on its own, and has made her into a role model in the tech industry, an area where we need more women role models.
So what led Amber Mac to her success? We caught up with her to find out.
The Backstory
Imagine. It's the mid 90's and the dot-com hype is just building. An entirely new industry is exploding, with its heart in Silicon Valley, California.
The decision to join many others and head out to the west coast and later Boston would, on reflection, have a big impact on her later career.
"I decided to move out to San Francisco during the dot com boom and start to work in the tech industry. I spent about three years in San Francisco and about one year in Boston and then came back to Canada and continued work in the tech industry, but also pursued my broadcast career simultaneously while having that niche in technology so it really helped me early on" said Amber Mac.
With so many of her classmates trying to accomplish the same thing, Mac was able to differentiate herself in order to make her way up in the industry.
"I realized that I really need a niche in the journalism space and so I was always attracted to technology" said Mac. "I think to recognize that if I was going to stand out from the crowd, I needed to do something where I was more like a unicorn in the space instead of competing with a bunch of people who were also doing the same thing" said Mac.
Fast forward to the year 2007 and Mac's approach was paying off. It was time to put aside the employee role and take control. Together with her brother, Jeff MacArthur, she started her own company, Konnekt Digital Engagement. Their goal: to help companies improve their digital presence and marketing campaigns.
If having brand name clients is a measure of success, then Konnekt hit the mark. Since launching, its client list boasts top brands from diverse fields including Ford, Canada Goose and Intel.
Social Success
Her success in tech has brought her many more opportunities, including earning the 2010 title of Canada's top social media expert on how to build a brand. Her success continues, and is evident in her own social media accounts. She has over 109,000 followers on Twitter, along with more than 355,000 likes on her Facebook page.
Social media has affected her business, and helped Mac grow her idea into the company it is today.
"I think social media has positively enhanced female entrepreneurs ability to succeed in this space because these tools come very naturally to us, and I think again it's something we can use and do use as I have as an advantage that I love connecting, I love networking with people and that I can do all that from my phone or my tablet, it just allowed me to further build my business" said Mac.
Going Beyond Solo
As her success and fame grew, Mac faced a new challenge. Growing the business beyond just herself. It was time to start hiring more team members and expand.
"I would say that the biggest hurdle that I have faced is really figuring out how to grow my business and really get to the point where I knew that I needed to hire team members and expand. I think that women like to do everything themselves, so it was a real hurdle a couple years ago when I knew that I needed support and I needed to hire people and invest in myself as well as my business," said Mac.
"… I think that has been a real turning point for me, from a revenue standpoint because I was in fact able to grow my business substantially over the last couple years, by knowing which time to get additional people as part of my team."
Being Women in Business
When asked what advice she would give others, Mac said:
"I think in terms of a young women who is thinking about starting their career as an entrepreneur. I think it's really important that that individual does find mentors, find people they can look up to, to be able to both have that support but also to understand how to grow her business and, I think like I said, there's more and more women who are available to mentor who have put themselves in that position."
"I would also say that for female entrepreneurs, things will get a lot better when we start to support each other better and I think that means we need to network with each other and work with each other and do business with each other and in that way I think there's a lot more positive outcomes that could happen as entrepreneurs if we do so" said Mac."
The Final Word
With the opportunity to talk to such a successful woman, we had to ask how she was able to get paid what she thought she deserved.
"I think one of the issues that female entrepreneurs face is that sometimes we don't give ourselves enough credit for our experience and the value that we bring to our work, and I that this is a massive issue as far as not pricing our work accordingly. I think a lot of women under value their contributions and therefore aren't getting paid what they should be getting paid, especially again as entrepreneurs," said Mac.
"… For me in particular I've always been kind of ruthless about money, so it's been at an advantage for me early on that I always make sure that I felt that as though I was getting paid what I deserved to get paid, and I really stuck to that and I started, even on projects where I knew they didn't have my full budget, I would be very clear that if my budget was a certain amount, I would accept less this time, but the next time they had to pay in full, and I think being clear and upfront about that is something that maybe a lot of female entrepreneurs struggle with, but I hope that it's going to get better."