What Does A CASL Compliant Email Look Like?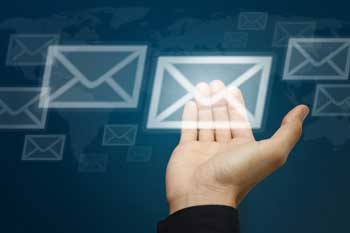 The day has come. Canada's Anti-Spam Legislation is now active and how businesses can communicate with clients has changed. But in what way have those communications changed? What does a CASL compliant email or text message look like?
The legislation requires that all commercial electronic communications include specific information. Assuming you have the proper consent to send electronic messages, our checklist for the CASL compliant email will help you make sure your emails meet the new regulations.
Did You Clearly Identify The Sender?

The message must clearly state who the message is from. This should include the name of your company and contact information

You may have a third party sending emails on your behalf, such as a PR firm. In those cases, they must state that the emails are on your behalf.

Can The Recipient Communicate With You?

Any message sent must provide a means to return communication. There are various ways to do this. In some cases, specifically one-on-one communication, replying to the sent email will work. All you will need, then, is a valid email address included in the email.

Of course, this may not be the way your email system is set up.

Some services or software for mailing lists may not have a reply address that's valid. It is not uncommon to see addresses such as do_not_reply@domain.xx. These are often seen in auto-responders which let users know that they have successfully completed an online membership or confirming that a support request has been received. In such cases, the message must include a valid email address which can be used as a point of contact.

Can The Recipient End Communication?

All electronic communications, whether email, text message or otherwise, must present a clear way to unsubscribe or end communication.

This option must be free of charge with as few steps as possible. It must also be available through the same medium as the original message. For example, an unsubscribe link embedded in the email or the option to text/email back with the word 'Stop' in the subject line.

In cases where this is not possible, another simple method to end electronic communication (such as a link to webpage) must be included.

Once the unsubscribe request has been sent, it must be carried out within 10 business days.

Are All Your Links and Email Addresses Valid?

The contact information and unsubscribe options must be valid for 60 days after the message has been sent.

Is Your Subject Line Clear and Accurate?

The Competition Act states that you may not present false or misleading information in the subject line of your email when promoting any business interest. Be clear as to what the email is about. If you have a regular newsletter, state the name of the newsletter in the subject line. If you are responding to a businesses inquiry or promoting a new product, say so.
Now let's look at a CASL compliant email: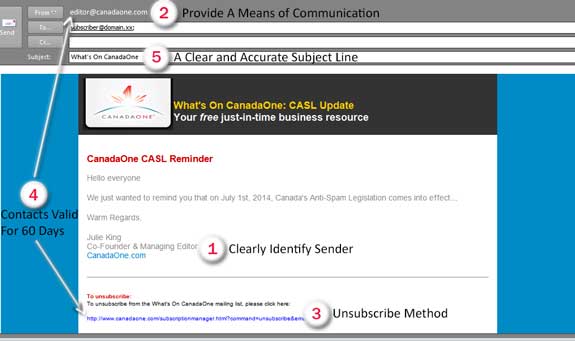 Businesses must take care to ensure all communications meet the legislation's guidelines regardless of receiving express consent or not. Again, express consent for messages, such as monthly newsletters, does not negate the above requirements. Also, please remember that you now require consent to send someone any commercial electronic messages.
For exact definitions, click here and review section 6.2 of the legislation.
Be sure to check out our other articles: CASL: What is Canada's Anti-Spam Legislation? and CASL: Penalties, Timelines and Opting Out